Woodforest Charitable Foundation Donates $10,000 to the Kids Café Program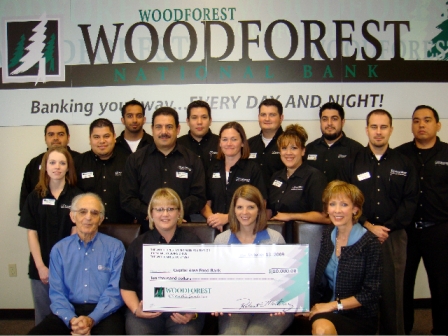 ---
Austin, Texas - Woodforest Charitable Foundation recently donated $10,000 to the Capital Area Food Bank, Kids Café Program.
"On behalf of the Woodforest Charitable Foundation and Woodforest National Bank, we are grateful to have the opportunity to provide funding for the Kids Cafe program which in turn provides nutritious meals for students who are at risk of being without food," said Kim Marling, Vice President of Woodforest Charitable Foundation. "Both, the Bank and the Foundation, share a deep concern for the needs in our communities."
The Capital Area Food Bank (CAFB) currently operates 31 Kids Cafes in Central Texas, serving more than 25,000 meals to more than 2,800 children in need per month. Kids Cafes are safe, nurturing places where neighborhood children can go after school and receive a hot dinner, as well as help with homework from caring individuals. "Often times, the meals received at Kids Cafes are the only evening meals these children will have," said David Davenport, President and CEO of Capital Area Food Bank. "For quite a few of our kids, the parents depend on this meal because they can't afford to feed them again when they get home. Because of organizations like Woodforest Charitable Foundation, the Food Bank is able to meet the growing challenges of these difficult economic times."
For more information about the Kids Café Program, please call (512) 282-2111, send an e-mail to communications@austinfoodbank.org, or visit www.austinfoodbank.org.
The Woodforest Charitable Foundation was created by Woodforest National Bank in 2005 as a direct result of its desire to support and invest in the communities in which it serves. The Foundation is creating a legacy of commitment to those in need, enriching lives and communities through dedicated leadership and faithful administration by providing funding to qualifying 501(c)(3) charities. For additional information regarding The Woodforest Charitable Foundation, call 832-375-CARE (2273) or visit the foundation's website at www.woodforestcharitablefoundation.org.
Celebrating 29 years of service and ranked among the top earning banks in the United States, the Woodforest family of banks currently has assets of approximately $3.2 billion and services more than 770,000 customers with branches in excess of 670 throughout fifteen states: Texas, Alabama, Illinois, Indiana, Kentucky, Louisiana, Maryland, Mississippi, New York, North Carolina, Ohio, Pennsylvania, South Carolina, Virginia and West Virginia. For information about Woodforest National Bank, please call 832-375-2000 or visit the bank's website at www.woodforest.com.