Woodforest Charitable Foundation Donates $6,000 to Central Pennsylvania Food Bank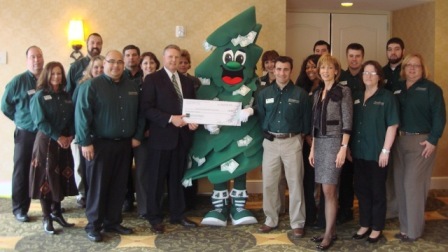 ---
Pennsylvania - Woodforest Charitable Foundation recently donated $6,000 to the Central Pennsylvania Food Bank.
The lines of people needing help putting food on the table continue to grow. As job losses pile up, people who have never before required aid are showing up in need. Those already in need are hurting even more. Woodforest Charitable Foundation's recent contribution of $6,000 will help the Central Pennsylvania Food Bank purchase and distribute food to those less fortunate. "This generous donation by the Woodforest Charitable Foundation will enable us to provide over 23,000 meals to individuals in Central Pennsylvania and the timing of this gift couldn't be better," stated Joe Arthur, the Food Banks Associate Director.
For over 20 years, Central Pennsylvania Food Bank has been dedicated to ending hunger. The Food Bank distributes more than 15 million pounds food and grocery products every year to more than 500 soup kitchens, shelters, and food pantries in 27 central Pennsylvania counties. These agencies directly feed thousands of hungry families throughout central Pennsylvania. The Food Bank fulfills its mission by working in partnership with a network of community agencies that directly serve people who are hungry.
"In this current economic environment an increasing number of families are faced with financial hardships. The Central Pennsylvania Food Bank has been dedicated to ending hunger for over twenty years," said Kim Marling, Vice President of Woodforest Charitable Foundation. "Our Foundation is committed to supporting such charities that provide a positive impact on the lives of others."
For more information, please call (717) 564-1700 or visit the Central Pennsylvania Food Bank website at www.centralpafoodbank.org.
The Woodforest Charitable Foundation was created by Woodforest National Bank in 2005 as a direct result of its desire to support and invest in the communities in which it serves. The Foundation is creating a legacy of commitment to those in need, enriching lives and communities through dedicated leadership and faithful administration by providing funding to qualifying 501(c)(3) charities. For additional information regarding The Woodforest Charitable Foundation, call 832-375-CARE (2273) or visit the foundation's website at www.woodforestcharitablefoundation.org.
Celebrating 30 years of service and ranked among the top earning banks in the United States, the Woodforest family of banks currently has assets of approximately $3.2 billion and services more than 770,000 customers with branches in excess of 700 throughout fifteen states: Texas, Alabama, Illinois, Indiana, Kentucky, Louisiana, Maryland, Mississippi, New York, North Carolina, Ohio, Pennsylvania, South Carolina, Virginia and West Virginia. For information about Woodforest National Bank, please call 832-375-2000 or visit the bank's website at www.woodforest.com.