Cleveland Food Bank receieves $3,025 donation from Woodforest Charitable Foundation.
24-April, 2013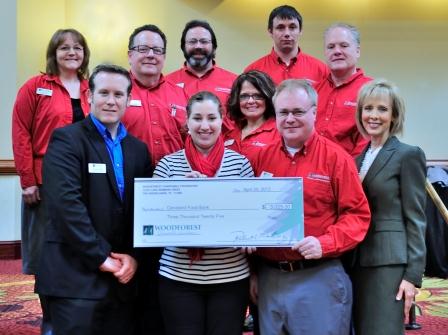 ---
Cleveland Foodbank
Cleveland, OH – On a continual basis Woodforest National Bank employees perform a multitude of fundraising events benefitting the Woodforest Charitable Foundation. Both Woodforest National Bank and Woodforest Charitable Foundation are committed to making a positive impact in the communities in which Woodforest serves. This partnership benefits the community and organizations such as Cleveland Foodbank which recently received a $3,025 donation from the Woodforest Charitable Foundation.
In 1979, a group of individuals joined together to create the Cleveland Foodbank, an innovative method for confronting the critical issue of hunger in their community. Some represented the food industry and expressed concern about the large amount of nutritious food going to waste each day. Others stood on the front lines in the fight against hunger and worried about the limited supply of food available to feed the hungry.
Today the Cleveland Foodbank solicits donated food and nonfood products from food manufacturers, wholesalers, retailers, and community groups and distributes it to more than 600 hunger programs that serve the needy in Northeast Ohio. Over 80% of the food served at local pantries is provided by the Cleveland Foodbank.
Currently the Foodbank offers feeding programs aimed at ending childhood food insecurity. The Kids Cafe program provides a daily hot meal and weekly nutrition education activities to at-risk youth at community partner sites each evening after school. Throughout the school year the Cleveland Foodbank partners with afterschool programs to provide children with food to take home over the weekend. At the end of each week throughout the school year, backpacks are filled with nutritious food and discreetly sent home with each child for the weekend. At the beginning of the year, all children receive a new backpack and can opener. The Summer Food Service Program is a summer meal program for school age children administered by the Ohio Department of Education (ODE). The Cleveland Foodbank is a sponsor of this program and last summer provided over 800 daily meals to school age children in low income areas.
"We are so grateful to receive a grant from Woodforest Charitable Foundation. Thank you! This gift will help ensure fewer children in Northeast Ohio to hungry," said Anne Goodman, President & CEO of Cleveland Foodbank.
For more information on Woodforest Charitable Foundation's contributions to this organization, please contact this agency directly at (216) 738-1604 or visit www.clevelandfoodbank.org.
Woodforest Charitable Foundation
The Woodforest Charitable Foundation was created by Woodforest National Bank in 2005 as a direct result of its desire to support and invest in the communities in which it serves. The Foundation is committed to assisting those in need, enriching lives and communities through dedicated leadership and faithful administration by providing funding to qualifying 501(c)(3) charities. For additional information regarding the Woodforest Charitable Foundation, call (832) 375-CARE (2273) or visit the foundation's website at www.woodforestcharitablefoundation.org.
Woodforest National Bank
Celebrating 32 years of service and ranked among the top earning banks in the United States, the Woodforest family of banks currently has assets of approximately $3.7 billion and services more than 837,000 customers with branches in excess of 760 throughout seventeen states: Texas, Alabama, Florida, Georgia, Illinois, Indiana, Kentucky, Louisiana, Maryland, Mississippi, New York, North Carolina, Ohio, Pennsylvania, South Carolina, Virginia and West Virginia. For information about Woodforest National Bank, please call 832-375-2000 or visit the bank's website at www.woodforest.com.