Daily Bread Ministries-Greer Soup Kitchen receives $1,715 donation from WCF.
24-April, 2012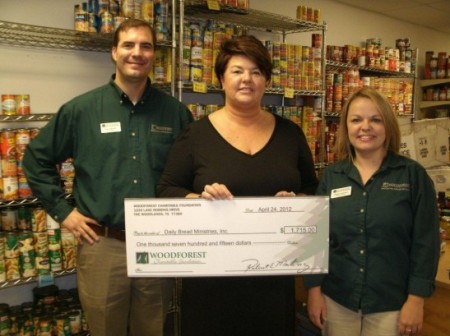 ---
GREER, SC – Daily Bread Ministries, Inc. receives a $1,715 donation from Woodforest Charitable Foundation.
The Greer Soup Kitchen, a part of Daily Bread Ministries, is a non-profit, charitable organization that was founded in 1990 when concerned citizens observed that people in their own town were going hungry. The mission of Daily Bread Ministries is to feed the hungry by providing one hot nutritious meal each day to whoever comes into the kitchen. The Soup Kitchen began in a storefront in downtown Greer and served one meal the first day open. Today more than 150 meals are served each day in a modern restaurant-style facility. The Soup Kitchen relies completely upon donations of food and money from private citizens, churches and businesses with no money received from governmental agencies. With the exception of paying a part-time operations manager/chef and a janitor, every cent donated goes to feed the hungry, minister the needy and maintain the facility.
The Soup Kitchen utilizes food donated by churches, restaurants, grocery stores, schools and individuals that may have been simply been thrown away. Similarly, a garden is in place where they grow some of the vegetables and herbs served. The kitchen is staffed with about 125 volunteers each week, representing businesses, individuals and approximately 50 area churches of all denominations.
"On behalf of Daily Bread Ministries-Greer Soup Kitchen, I would like to thank you for your generous donation. Your contribution helps make it possible for us to provide at least one hot nutritious meal per day to the hungry men, women and children in our area. We receive no governmental monies and therefore rely totally on thoughtful contributions from people like you. Once again thank you for your generous donation and for being a caring friend to the poor," said John Adam Wickliffe, Board of Directors for Daily Bread Ministries-Greer Soup Kitchen.
For more information on Woodforest Charitable Foundation's contributions to this organization, please contact this agency at (864) 968-0323 or visit www.greersoupkitchen.com.
The Woodforest Charitable Foundation was created by Woodforest National Bank in 2005 as a direct result of its desire to support and invest in the communities in which it serves. The Foundation is creating a legacy of commitment to those in need, enriching lives and communities through dedicated leadership and faithful administration by providing funding to qualifying 501(c) (3) charities. For additional information regarding The Woodforest Charitable Foundation, call (832) 375-CARE (2273) or visit the foundation's website at www.woodforestcharitablefoundation.org.
Celebrating 32 years of service and ranked among the top earning banks in the United States, the Woodforest family of banks currently has assets of approximately $3.7 billion and services more than 1 million customers with branches in excess of 780 throughout 17 states: Texas, Alabama, Florida, Georgia, Illinois, Indiana, Kentucky, Louisiana, Maryland, Mississippi, New York, North Carolina, Ohio, Pennsylvania, South Carolina, Virginia and West Virginia. For information about Woodforest National Bank, please call 832-375-2000 or visit the bank's website at www.woodforest.com.