Second Harvest Food Bank of Clark, Champaign and Logan Counties receives $1,135 donation.
10-October, 2012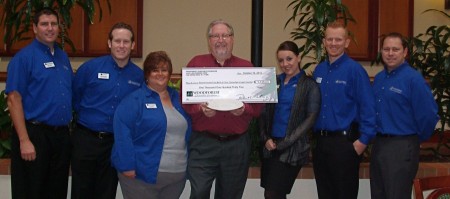 ---
HAMILTON, OH – Second Harvest Food Bank of Clark, Champaign & Logan Counties receives a $1,135 gift from Woodforest Charitable Foundation.
Established in 1981, The Food Bank is a national network member of Feeding America. The Food Bank's mission is targeting hunger by harvesting resources and partnering to serve and educate the community.
The Second Harvest Food Bank is a national network member of Feeding America. This collection of over 205 food banks and food rescue organizations nationwide get food to hungry children and families who need it most. Feeding America is the nation's largest non-governmental, domestic hunger relief organization. The Second Harvest Food Bank is one of the 12 operations that comprise the Ohio Association of Foodbanks.
With the donations received from community food drives, retail partnerships and the Feeding America network, the Food Bank works to target hunger through programs such as The Emergency Food Assistance Program (TEFAP), the Commodity Supplemental Food Program (CSFP), Ohio Food Program (OFP), and Agricultural Clearance Program (ACP).
CSFP is a federal funded program for people who are 60+ years of age and whose household income is 130% or less of the federal poverty guidelines. Each month we provide a 40 lb box of nutritious food to over 1300 seniors throughout Clark, Champaign and Logan Counties. Participants who meet income guidelines will receive a monthly food package that includes items such as canned meat, vegetables, fruits, fruit juices, potatoes, and hot and cold cereal.
"People are in need all around us. They are our neighbors, co-workers, fellow parishioners, and even relatives. Your contribution to Second Harvest will make a positive impact on the lives of the men, women, and children we serve. Thank you for your willingness to support our efforts," said Keith Williamson, Regional Director of Second Harvest Food Bank of Clark, Champaign and Logan Counties.
For more information on Woodforest Charitable Foundation's contributions to this organization, please contact this agency directly at (513) 863-6129 or visit www.springfieldshfb.org.
The Woodforest Charitable Foundation was created by Woodforest National Bank in 2005 as a direct result of its desire to support and invest in the communities in which it serves. The Foundation is creating a legacy of commitment to those in need, enriching lives and communities through dedicated leadership and faithful administration by providing funding to qualifying 501(c) (3) charities. For additional information regarding The Woodforest Charitable Foundation, call (832) 375-CARE (2273) or visit the foundation's website at www.woodforestcharitablefoundation.org .
Celebrating 32 years of service and ranked among the top earning banks in the United States, the Woodforest family of banks currently has assets of approximately $3.7 billion and services more than 1 million customers with branches in excess of 780 throughout 17 states: Texas, Alabama, Florida, Georgia, Illinois, Indiana, Kentucky, Louisiana, Maryland, Mississippi, New York, North Carolina, Ohio, Pennsylvania, South Carolina, Virginia and West Virginia. For information about Woodforest National Bank, please call 832-375-2000 or visit the bank's website at www.woodforest.com.