Eastern Illinois Food Bank receives $3,300 donation from WCF.
16-October, 2012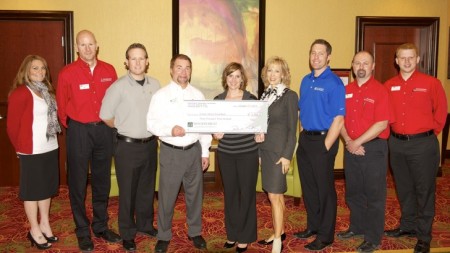 ---
URBANA, IL – Eastern Illinois Foodbank receives a $3,300 gift from Woodforest Charitable Foundation. The Foodbank distributes more than 6 million pounds annually on a budget of just over $1 million.
The Eastern Illinois Foodbank exists to alleviate hunger in eastern Illinois by providing a reliable source of food for the hungry through cooperation with a network of food pantries and agencies. Food from the Foodbank's warehouse reaches more than 100,000 people visiting 220 agencies and programs each year.
The Foodbank accepts donated and discounted food from a variety of sources and distributes it to emergency food programs, such as food pantries, soup kitchens and shelters. By partnering with the Foodbank, emergency food programs are able to save millions of dollars each year in food purchase and handling costs. These savings allow them to focus their efforts and funds on more effectively working to alleviate hunger in their service area.
The Foodbank also operates the Healthy Futures Initiative, designed to alleviate hunger among low-income children, and the Foodmobile Program, which aims to increase access to emergency food for residents in rural and under-resourced communities.
Eastern Illinois Foodbank fights hunger in communities throughout 14 eastern Illinois counties: Champaign, Clark, Clay, Coles, Crawford, Cumberland, Douglas, Edgar, Ford, Iroquois, Jasper, Moultrie, Piatt, and Vermilion.
"Your donation will help distribute over 22,000 sacks of food to more than 700 kids in schools across our community in the 2011-2012 school year. We are grateful for your partnership in this important effort. Your support has truly made an impact," said Jim Hires, Executive Director of Eastern Illinois Food Bank. For more information on Woodforest Charitable Foundation's contributions to this organization, contact this agency directly at (217)328-3663 or visit www.eifoodbank.org.

The Woodforest Charitable Foundation was created by Woodforest National Bank in 2005 as a direct result of its desire to support and invest in the communities in which it serves. The Foundation is creating a legacy of commitment to those in need, enriching lives and communities through dedicated leadership and faithful administration by providing funding to qualifying 501(c) (3) charities. For additional information regarding The Woodforest Charitable Foundation, call (832) 375-CARE (2273) or visit the foundation's website at www.woodforestcharitablefoundation.org .
Celebrating 32 years of service and ranked among the top earning banks in the United States, the Woodforest family of banks currently has assets of approximately $3.7 billion and services more than 1 million customers with branches in excess of 780 throughout 17 states: Texas, Alabama, Florida, Georgia, Illinois, Indiana, Kentucky, Louisiana, Maryland, Mississippi, New York, North Carolina, Ohio, Pennsylvania, South Carolina, Virginia and West Virginia. For information about Woodforest National Bank, please call 832-375-2000 or visit the bank's website at www.woodforest.com.