Community Food Bank of Central Alabama receives $2,030 donation from WCF.
10-September, 2012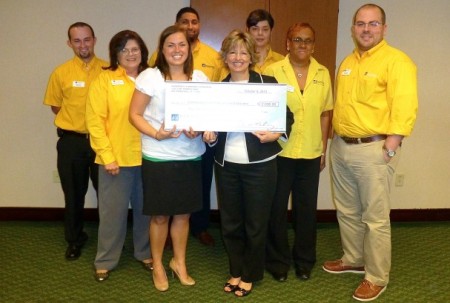 ---
BIRMINGHAM, AL – Community Food Bank of Central Alabama receives a $2,030 donation from Woodforest Charitable Foundation. The mission of the Community Food Bank of Central Alabama is to serve people in need by securing and storing surplus food and household items and distributing it through local partnering service agencies.

Community Food Bank of Central Alabama was established December 1, 1982 by a $100,000 grant from Greater Birmingham Foundation. Over the last 30 years, the number of counties served by the food bank has increased from 3 to 12 and the number of agencies distributing food in Central Alabama has increased from 30 to 200. In addition to being a United Way of Central Alabama partner agency, the food bank is also a member of Feeding America – a national food bank network with more than 200 food bank members. The food bank is also a USDA TEFAP commodities distributor.

In 2011, the food bank implemented a weekenders program designed to send backpacks of food home from school. The mission of the backpack program is to alleviate child hunger by providing hungry children with nutritious and easy-to-prepare food at times when other resources are not available, such as weekends and school vacations. Now in the fifth year of the program, the food bank continues to explore ways in providing nutritious options for children while at home and ways to expand this highly valuable program.

"Your gift is working hard to support programs that feed these children throughout Birmingham and North Central Alabama. You're helping to provide nutritious foods to children who have had to endure this secret hunger, and giving worried parents a break from the struggles they face. So thank you," said Larry Logan, Executive Director of Community Food Bank of Central Alabama.
To contact this agency directly, call (205)942-8911 or visit www.feedingal.org.

The Woodforest Charitable Foundation was created by Woodforest National Bank in 2005 as a direct result of its desire to support and invest in the communities in which it serves. The Foundation is creating a legacy of commitment to those in need, enriching lives and communities through dedicated leadership and faithful administration by providing funding to qualifying 501(c) (3) charities. For additional information regarding The Woodforest Charitable Foundation, call (832) 375-CARE (2273) or visit the foundation's website at www.woodforestcharitablefoundation.org .
Celebrating 32 years of service and ranked among the top earning banks in the United States, the Woodforest family of banks currently has assets of approximately $3.7 billion and services more than 1 million customers with branches in excess of 780 throughout 17 states: Texas, Alabama, Florida, Georgia, Illinois, Indiana, Kentucky, Louisiana, Maryland, Mississippi, New York, North Carolina, Ohio, Pennsylvania, South Carolina, Virginia and West Virginia. For information about Woodforest National Bank, please call 832-375-2000 or visit the bank's website at www.woodforest.com.