Woodforest Charitable Foundation donates $3,000 to the Eastern Illinois Foodbank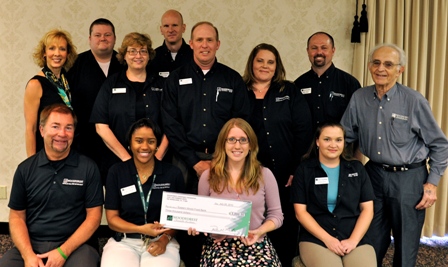 ---
URBANA, IL – Eastern Illinois Foodbank receives a $3,000 donation from Woodforest Charitable Foundation.
Hunger doesn't take the weekend off. Every Friday afternoon some kids leave school wondering what, if anything, will be around for them to eat before school starts again Monday morning. Weekend hunger has repercussions not only on children's physical health but on their attentiveness and ability to learn. Woodforest Charitable Foundation's donation will help supply nutritious food for children participating in the BackPack Program.
The Eastern Illinois Foodbank's BackPack Program provides backpacks filled with food for kids to take home every weekend that school is in session. The BackPack Program was initiated during the 2005-06 school year as a collaborative project between the Junior League of Champaign-Urbana and the Eastern Illinois Foodbank, a partnership that has proven to be critical to the program's growth. Since its inaugural year serving 50 kids at Garden Hills Elementary, the BackPack program has expanded to reach over 400 kids each year and is continuing to grow. "This year, the BackPack Program has grown to feed 140 additional kids per week," said Jim Hires, Executive Director of Eastern Illinois Foodbank.
"This is an unbelievable gift that will help distribute over 5,000 backpacks to more than 320 kids in schools across our community. We are very grateful for this donation and hope the Woodforest family fully understands the magnitude of the support they provided."
The Eastern Illinois Foodbank is the primary food source for food pantries, soup kitchens, homeless shelters, and other programs working to feed the hungry in 14 eastern Illinois counties. Each year, the Food Bank distributes millions of pounds of food across a network of more than 200 food pantries and agencies.
For more information about the Eastern Illinois Foodbank, please call (217) 328-3663 or visit www.eifoodbank.org.
The Woodforest Charitable Foundation was created by Woodforest National Bank in 2005 as a direct result of its desire to support and invest in the communities in which it serves. The Foundation is creating a legacy of commitment to those in need, enriching lives and communities through dedicated leadership and faithful administration by providing funding to qualifying 501(c)(3) charities. For additional information regarding The Woodforest Charitable Foundation, call (832) 375-CARE (2273) or visit the Foundation's website at www.woodforestcharitablefoundation.org.
Celebrating 30 years of service and ranked among the top earning banks in the United States, the Woodforest family of banks currently has assets of approximately $3.2 billion and services more than 850,000 customers with branches in excess of 750 throughout seventeen states: Texas, Alabama, Florida, Georgia, Illinois, Indiana, Kentucky, Louisiana, Maryland, Mississippi, New York, North Carolina, Ohio, Pennsylvania, South Carolina, Virginia and West Virginia. For information about Woodforest National Bank, please call 832-375-2000 or visit the bank's website at www.woodforest.com.