Feeding America - Kentucky's Heartland receives $4,200 donation from WCF.
09-October, 2012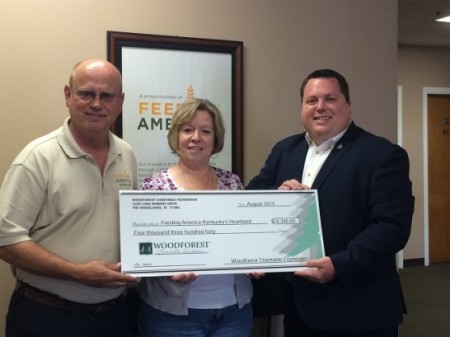 ---
ELIZABETHTOWN, KY – Feeding America-Kentucky's Heartland welcomes a $4,200 donation from Woodforest Charitable Foundation.
Feeding America-Kentucky's Heartland's mission is to serve those in need by acquiring and distributing donated food, grocery items and government commodities through a member network of charitable agencies in 42 Kentucky counties. Their vision is that one day no one will go to bed hungry.
In the past 26 years the Food Bank has solicited and distributed approximately 100 million pounds of food and grocery items with a retail value of $150,000,000 to its network of food pantries. It is then distributed to families in need throughout central and south central Kentucky.
"I'm so thankful that children, who have been identified as at-risk for being hungry on the weekends, have you to help them," said Don Fulford, Executive Director of Feeding America-Kentucky's Heartland.
Sadly, many children in Feeding America's service area are going an entire weekend with little or no food when a school meal is not available. Children who are suffering from food insecurity do not perform well academically, display unacceptable behavior, and have poor attendance due to illness or unexcused absences. Fortunately Feeding America-Kentucky's Heartland launched the BackPack program to help alleviate childhood hunger. Nutritious, easy-to-prepare foods are sent home in backpacks on Friday afternoons to ensure the child has something to eat until they return for breakfast on Monday morning.
"For every $100 donation received, one child receives a bag of food (10-15 food items) every week throughout the entire school year; 40 weeks total! Approximately 5,000 children benefit from this wonderful program in 33 counties. Thank you for your compassion for our Kentucky," said Fulford.
For more information on Woodforest Charitable Foundation's contributions to this organization, please contact this agency directly at (270)769-6997or visit info@feedingamericaky.org.
The Woodforest Charitable Foundation was created by Woodforest National Bank in 2005 as a direct result of its desire to support and invest in the communities in which it serves. The Foundation is creating a legacy of commitment to those in need, enriching lives and communities through dedicated leadership and faithful administration by providing funding to qualifying 501(c) (3) charities. For additional information regarding The Woodforest Charitable Foundation, call (832) 375-CARE (2273) or visit the foundation's website at www.woodforestcharitablefoundation.org .
Celebrating 32 years of service and ranked among the top earning banks in the United States, the Woodforest family of banks currently has assets of approximately $3.7 billion and services more than 1 million customers with branches in excess of 780 throughout 17 states: Texas, Alabama, Florida, Georgia, Illinois, Indiana, Kentucky, Louisiana, Maryland, Mississippi, New York, North Carolina, Ohio, Pennsylvania, South Carolina, Virginia and West Virginia. For information about Woodforest National Bank, please call 832-375-2000 or visit the bank's website at www.woodforest.com.