God's Pantry Food Bank receives $4,670 donation from Woodforest Charitable Foundation.
09-October, 2012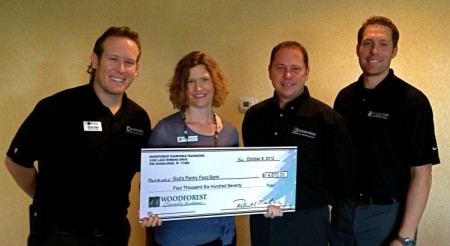 ---
LEXINGTON, KY – Woodforest Charitable Foundation makes a $4,670 donation to God's Pantry Food Bank.
For 56 years, God's Pantry has been collecting and distributing donated food to agencies across central and eastern Kentucky. Today, God's Pantry works with more than 275 partner agencies to fight hunger and alleviate the symptoms that accompany it.
Nearly 330,000 people in God's Pantry Food Bank's 50-county service area are at risk of hunger. In any given week, emergency food providers across Central and Eastern Kentucky provide food and meals to more than 15,000 different clients. Annually the food bank provides assistance to more than 211,000 people.
The mission of God's Pantry Food Bank is to reduce hunger in Kentucky through community cooperation making the best possible use of all available resources. The funds will support the Food Bank's Kids Café and BackPack Programs targeting children at risk of hunger.
God's Pantry Food Bank has more than 285 member agencies including emergency food pantries, homeless shelters, abuse centers, senior programs, soup kitchens and children's homes. Any agency that has 501C(3) status and serves food (meals or food box) to needy people may be eligible to become a Food Bank member agency. A significant portion of inventory is distributed to agencies at no charge. Produce, bread and USDA commodities are free to eligible agencies. A smaller percentage of inventory is distributed with a "shared maintenance fee." This fee contributes toward the transportation and warehousing costs incurred in obtaining the food.
"Thank you for your recent gift to help us in our continuing efforts of providing food to those in need. More than one-third of the households we serve include children. Many hands make the work much lighter. Thank you for joining us," said Marian Guinn, Executive Director of God's Pantry Food Bank.
For more information on Woodforest Charitable Foundation's contributions to this organization, please contact this agency directly at (859)255-6592 or visit www.godspantry.org.
The Woodforest Charitable Foundation was created by Woodforest National Bank in 2005 as a direct result of its desire to support and invest in the communities in which it serves. The Foundation is creating a legacy of commitment to those in need, enriching lives and communities through dedicated leadership and faithful administration by providing funding to qualifying 501(c) (3) charities. For additional information regarding The Woodforest Charitable Foundation, call (832) 375-CARE (2273) or visit the foundation's website at www.woodforestcharitablefoundation.org .
Celebrating 32 years of service and ranked among the top earning banks in the United States, the Woodforest family of banks currently has assets of approximately $3.7 billion and services more than 1 million customers with branches in excess of 780 throughout 17 states: Texas, Alabama, Florida, Georgia, Illinois, Indiana, Kentucky, Louisiana, Maryland, Mississippi, New York, North Carolina, Ohio, Pennsylvania, South Carolina, Virginia and West Virginia. For information about Woodforest National Bank, please call 832-375-2000 or visit the bank's website at www.woodforest.com.