Food Bank of Northeast Louisiana receives $525 donation from WCF.
17-April, 2012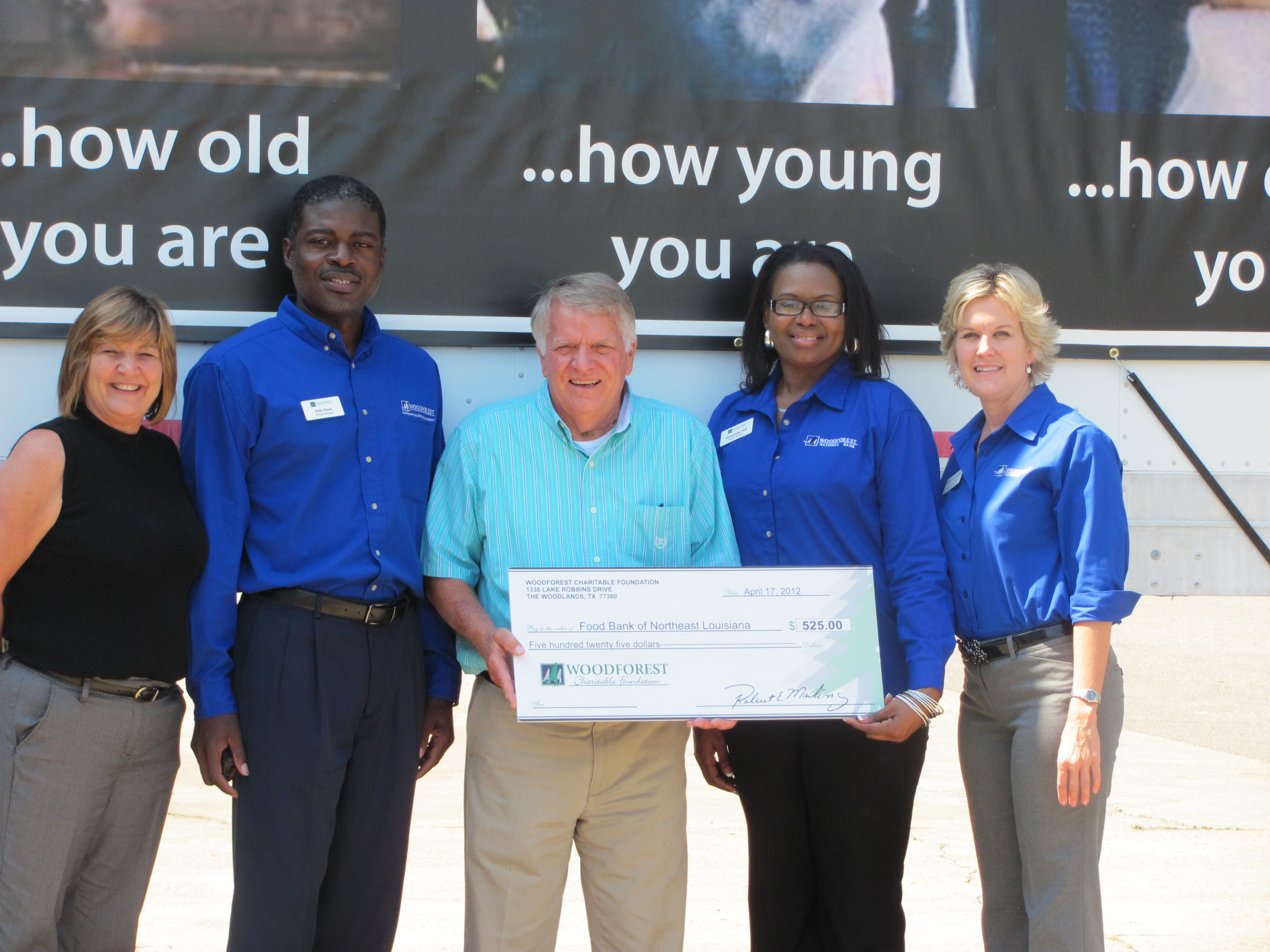 ---
SHREVEPORT, LA – The Foodbank of Northeast Louisiana receives a $525 contribution from Woodforest Charitable Foundation in support of their child nutrition programs. The Food Bank currently serves 12 Parishes including Caldwell, East Carroll, Franklin, Jackson, Lincoln, Madison, Morehouse, Ouachita, Richland, Tensas, Union and West Carroll.
The Food Bank's vision is that of a hunger-free northeast Louisiana. This vision in put in place by offering the opportunity for growers, processors, distributors and retailers of food products to donate items which might otherwise be discarded to instead be used to feed the hungry.
Food Bank of Northeast Louisiana distributes more than three million pounds of food annually through approximately 75 charitable agencies throughout northeast Louisiana. A study conducted by Feeding America National Hunger in 2010 showed that the Food Bank provides emergency food assistance for an estimated 39,000 unduplicated individuals annually and about 7,400 in any given week.
"Your generous donation will help men, women and children all over northeast Louisiana get the nourishment they so desperately need and would otherwise not be able to purchase for themselves," said Richard King, Executive Director of Food Bank of Northeast Louisiana.
In northeast Louisiana an estimated 65% of children are enrolled in free and reduced-price lunch. To expand on the school systems effort in feeding these children, the Food Bank offers a BackPack Program that allows children to bring home nutritious food when other resources are not available. Currently Food Bank of Northeast Louisiana serves 355 children in seven schools during the school year.
"We, the Staff of the Food Bank, along with our Board of Directors, want to say thank you on behalf of all the people you have helped with your contribution," said King.
For more information about the Foodbank of Northeast Louisiana's child nutrition programs, please call (318) 322-3567 or visit www.fbnela.org.
The Woodforest Charitable Foundation was created by Woodforest National Bank in 2005 as a direct result of its desire to support and invest in the communities in which it serves. The Foundation is creating a legacy of commitment to those in need, enriching lives and communities through dedicated leadership and faithful administration by providing funding to qualifying 501(c) (3) charities. For additional information regarding The Woodforest Charitable Foundation, call (832) 375-CARE (2273) or visit the foundation's website at www.woodforestcharitablefoundation.org .
Celebrating 32 years of service and ranked among the top earning banks in the United States, the Woodforest family of banks currently has assets of approximately $3.7 billion and services more than 1 million customers with branches in excess of 780 throughout 17 states: Texas, Alabama, Florida, Georgia, Illinois, Indiana, Kentucky, Louisiana, Maryland, Mississippi, New York, North Carolina, Ohio, Pennsylvania, South Carolina, Virginia and West Virginia. For information about Woodforest National Bank, please call 832-375-2000 or visit the bank's website at www.woodforest.com.