Second Harvest Food Bank of Greater New Orleans and Acadiana
17-April, 2012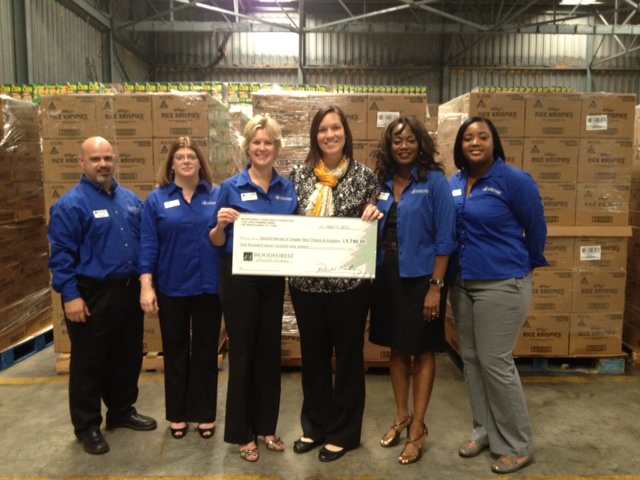 ---
HARAHAN, Louisiana - Second Harvest Food Bank of Greater New Orleans and Acadiana recently received a $1,740 contribution from Woodforest Charitable Foundation. This donation will support the "Lagniappe Pack" backpack and Kids Café programs.
The mission of Second Harvest Food Bank of Greater New Orleans and Acadiana is to lead the fight against hunger in south Louisiana through food distribution, advocacy, education and disaster response. With donations received from community food drives, retail partnerships and the Feeding America network, the Food Bank provides solutions to the hunger crisis through innovative programs and services across south Louisiana.
In December 2007, the Second Harvest Food Bank Board of Directors adopted a long-term strategic plan to increase annual food distribution to 38 million meals across the 23 parish service area by 2013. The plan called for Second Harvest to secure the infrastructure required to enhance the food bank's capacity to accept and distribute better quality and larger quantities of food, improve and expand services, deliver community programs, expand volunteer opportunities and strengthen Second Harvest Food Bank's vital role in times of disaster. In order to accommodate this growth Second Harvest acquired and moved into a 200,000 square foot warehouse in April 2010.
Today, Second Harvest Food Bank distributes more than 22 million meals through a network of 240 non-profit member agencies and provides emergency food assistance to more than 263,000 people, including nearly 82,000 children and 40,000 seniors.
"Thank you and The Woodforest Charitable Foundation for you generous gift and personal investment to fight hunger in south Louisiana. From the children who light up when they have food for the weekend to the elderly, your donation helps bring comfort and hope to over 262,000 individuals for a brighter tomorrow. Economic difficulties have made it harder for lower to middle class income families to make ends meet. The solace of having a meal amidst all the other struggles that families face can only be offered with your help," said Jan Hayden, Chair for the Board of Directors of Second Harvest Food Bank of Greater New Orleans and Acadiana.
For more information about the Second Harvest Food Bank of Greater New Orleans and Acadiana, please call (504) 734-1322 or visit the Food Bank's website at www.no-hunger.org.
The Woodforest Charitable Foundation was created by Woodforest National Bank in 2005 as a direct result of its desire to support and invest in the communities in which it serves. The Foundation is creating a legacy of commitment to those in need, enriching lives and communities through dedicated leadership and faithful administration by providing funding to qualifying 501(c) (3) charities. For additional information regarding The Woodforest Charitable Foundation, call (832) 375-CARE (2273) or visit the foundation's website at www.woodforestcharitablefoundation.org .
Celebrating 32 years of service and ranked among the top earning banks in the United States, the Woodforest family of banks currently has assets of approximately $3.7 billion and services more than 1 million customers with branches in excess of 780 throughout 17 states: Texas, Alabama, Florida, Georgia, Illinois, Indiana, Kentucky, Louisiana, Maryland, Mississippi, New York, North Carolina, Ohio, Pennsylvania, South Carolina, Virginia and West Virginia. For information about Woodforest National Bank, please call 832-375-2000 or visit the bank's website at www.woodforest.com.