Food Bank of Central New York receives $1,850 donation from WCF.
17-April, 2012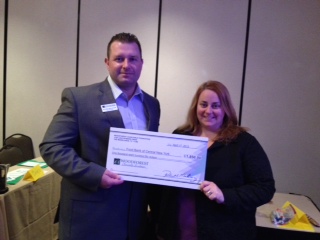 ---
SYRACUSE, NY – Food Bank of Central New York welcomes a $1,850 donation from Woodforest Charitable Foundation. The Food Bank is a not-for-profit organization working to eliminate hunger through nutritious food distribution, education and advocacy in cooperation with the community.
Food Bank of Central New York has been helping to feed the hungry since 1985. As the main food supplier to 273 emergency food agencies, the Food Bank helps fill food pantries, soup kitchens, and emergency shelters with food for distribution to the hungry. Over the past 12 months, Food Bank of Central New York distributed more than 12 million pounds of food. This translates into over 10 million meals or enough food for 28,000 meals each day. Food Bank of Central New York has a service area that includes the following 11 counties: Cayuga, Chenango, Cortland, Herkimer, Jefferson, Lewis, Madison, Oneida, Onondaga, Oswego and St. Lawrence.
"Your support helped us to be able to achieve our mission – eliminating hunger through nutritious food distribution, education and advocacy in cooperation with the community. Thank you for your support of the Food Bank of Central New York," said Lynn Hy, Director of Philanthropy of Food Bank of Central New York.
Since 2010, Woodforest Charitable Foundation primarily supported the Kids Café and Summer Food Service Programs. The donation helped to ensure that low-income children in the community receive proper nutrition. The donation helps cover the costs associated with the program to assure that this vulnerable population is not hungry. Kids Café provides children with nutritious meals at after-school programs in areas of high need where they have an opportunity to do homework and participate in educational and recreational activities. Children who participate in Kids Café learn about the benefits of good nutrition and exercise. During the Summer Food Service program, the Food Bank provides free breakfast and lunch for children who ordinarily receive free and reduced-price meals during the school year.
For more information on Woodforest Charitable Foundation's contributions to this organization, please contact this agency directly at (315)437-1899 or visit www.foodbankcny.org.
The Woodforest Charitable Foundation was created by Woodforest National Bank in 2005 as a direct result of its desire to support and invest in the communities in which it serves. The Foundation is creating a legacy of commitment to those in need, enriching lives and communities through dedicated leadership and faithful administration by providing funding to qualifying 501(c) (3) charities. For additional information regarding The Woodforest Charitable Foundation, call (832) 375-CARE (2273) or visit the foundation's website at www.woodforestcharitablefoundation.org .
Celebrating 32 years of service and ranked among the top earning banks in the United States, the Woodforest family of banks currently has assets of approximately $3.7 billion and services more than 1 million customers with branches in excess of 780 throughout 17 states: Texas, Alabama, Florida, Georgia, Illinois, Indiana, Kentucky, Louisiana, Maryland, Mississippi, New York, North Carolina, Ohio, Pennsylvania, South Carolina, Virginia and West Virginia. For information about Woodforest National Bank, please call 832-375-2000 or visit the bank's website at www.woodforest.com.