Feeding America - Kentucky's Heartland receives $4,140 donation from WCF.
23-April, 2013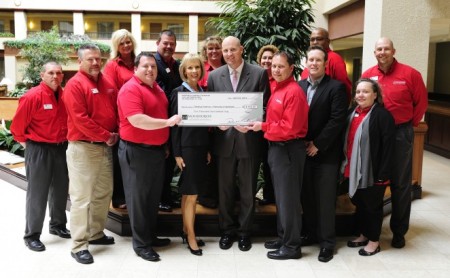 ---
Feeding America Kentucky's Heartland
Elizabethtown, KY – On a continual basis Woodforest National Bank employees perform a multitude of fundraising events benefitting the Woodforest Charitable Foundation. Both Woodforest National Bank and Woodforest Charitable Foundation are committed to making a positive impact in the communities in which Woodforest serves. This partnership benefits the community and organizations such as Feeding America Kentucky's Heartland, which recently received a $4,140 donation, from the Woodforest Charitable Foundation.

Feeding America Kentucky's Heartland was founded in 1982 by a group of churches that recognized the need to feed their hungry neighbors. For over 30 years the Food Bank has been serving multiple counties, distributing approximately 150 million meals.

Their mission is, "To serve those in need by acquiring and distributing donated food, grocery items, and government commodities through our member network of charitable agencies in 42 Kentucky counties." Their vision is, "No one will go to bed hungry in our service area."

Feeding America Kentucky's Heartland supports numerous feeding programs including Donate & Grocery, Emergency Food Assistance, Commodity Supplemental Food, Disaster Relief, and BackPack Programs. BackPack Programs were designed to furnish children with nutritional food on weekends and holidays when school breakfast and lunches are not available.

A short story about the importance of feeding our children: Many of us remember Spring Break as a special time - especially as a child. No teachers for a week, no homework and usually some sort of fun trip with our family. The week before this past Spring Break I walked into the warehouse to see a beehive of activity. I wondered what all of our volunteers and staff could be working on so close to a long school break. When I asked I was shocked to hear the answer. Our BackPacks provide food for a weekend. Since many of these children would not have any access to food for an entire week they were packing up double backpacks. I couldn't imagine. No school for some of these kids means no food. And no school for a week means they are at home trying to survive. They attend school so they can eat at least one meal a day and wait anxiously each Friday to make sure our BackPacks show up in the front office for the weekend. It is sad to think that children in our area go to bed hungry and drink water to ease hunger pains. These funds help support the more than 25,000 BackPacks we provide each month to kids who thru no fault of their own are starving over the weekend.

For more information on the Feeding America Kentucky's Heartland, please call 270-769-6997 or visit www.feedingamericaky.org

Woodforest Charitable Foundation
The Woodforest Charitable Foundation was created by Woodforest National Bank in 2005 as a direct result of its desire to support and invest in the communities in which it serves. The Foundation is committed to assisting those in need, enriching lives and communities through dedicated leadership and faithful administration by providing funding to qualifying 501(c)(3) charities. For additional information regarding the Woodforest Charitable Foundation, call (832) 375-CARE (2273) or visit the foundation's website at www.woodforestcharitablefoundation.org.
Woodforest National Bank
Celebrating 32 years of service and ranked among the top earning banks in the United States, the Woodforest family of banks currently has assets of approximately $3.7 billion and services more than 837,000 customers with branches in excess of 760 throughout seventeen states: Texas, Alabama, Florida, Georgia, Illinois, Indiana, Kentucky, Louisiana, Maryland, Mississippi, New York, North Carolina, Ohio, Pennsylvania, South Carolina, Virginia and West Virginia. For information about Woodforest National Bank, please call 832-375-2000 or visit the bank's website at www.woodforest.com.