Dare to Care Food Bank receives $3,220 donation from Woodforest Charitable Foundation.
23-April, 2013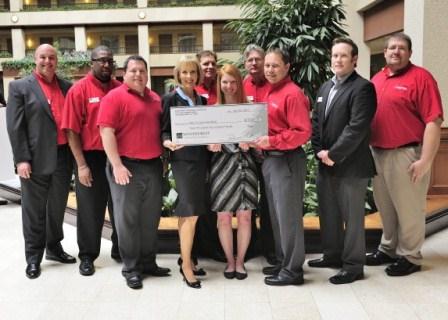 ---
Dare to Care Food Bank
Louisville, KY – On a continual basis Woodforest National Bank employees perform a multitude of fundraising events benefitting the Woodforest Charitable Foundation. Both Woodforest National Bank and Woodforest Charitable Foundation are committed to making a positive impact in the communities in which Woodforest serves. This partnership benefits the community and organizations such as Dare to Care Food Bank, which recently received a $3,220 donation from the Woodforest Charitable Foundation.
Dare to Care Food Bank distributed 12 million meals - about 15 million pounds of food - to those in need in the 13 counties they serve. Their vision is, "A Hunger Free Kentuckiana", and their mission is, "To lead our community to feed the hungry and conquer the cycle of need". Dare to Care supports numerous feeding programs such as, Patrol Against Hunger, Mobile Pantries, Kids Café, and Backpack Buddy.
Dare to Care Food Bank operates 12 Kids Café sites, providing 100k free nutritious meals to children at risk of hunger. Backpack Buddy serves 34 schools, providing nutritious, kid friendly foods to 1,800 children from low-income families on weekends when they do not receive free and reduced-price school breakfast and lunches.

"CJ is always happy to get his backpack. His classroom participation has increased, and he is now reading on grade level. He seems to have more energy and is more involved in classroom activities. Backpack Buddy has made a difference is this child's learning." – Teacher

"Jack's school work has greatly improved. He has a positive attitude about school. He really looks forward to getting the bag of food on Friday. Thank you for providing the program." - Teacher
For more information on Dare to Care Food Bank, please call 502-966-3821 or visit www.daretocare.org

Woodforest Charitable Foundation
The Woodforest Charitable Foundation was created by Woodforest National Bank in 2005 as a direct result of its desire to support and invest in the communities in which it serves. The Foundation is committed to assisting those in need, enriching lives and communities through dedicated leadership and faithful administration by providing funding to qualifying 501(c)(3) charities. For additional information regarding the Woodforest Charitable Foundation, call (832) 375-CARE (2273) or visit the foundation's website at www.woodforestcharitablefoundation.org.
Woodforest National Bank
Celebrating 32 years of service and ranked among the top earning banks in the United States, the Woodforest family of banks currently has assets of approximately $3.7 billion and services more than 837,000 customers with branches in excess of 760 throughout seventeen states: Texas, Alabama, Florida, Georgia, Illinois, Indiana, Kentucky, Louisiana, Maryland, Mississippi, New York, North Carolina, Ohio, Pennsylvania, South Carolina, Virginia and West Virginia. For information about Woodforest National Bank, please call 832-375-2000 or visit the bank's website at www.woodforest.com.