Woodforest Charitable Foundation Donates $1,000 to Food Bank of the Albemarle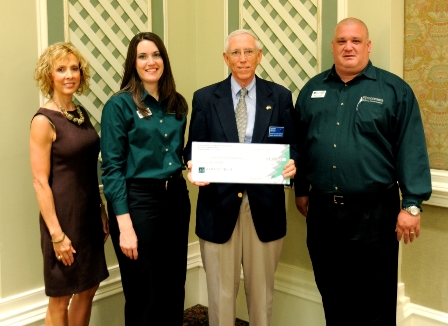 ---
ELIZABETH CITY, North Carolina (June 14, 2010) – Woodforest Charitable Foundation recently donated $1,000 to Food Bank of the Albemarle. The donation will help support the Food Bank's After School Feeding Program sites throughout Northeast North Carolina.
The Food Bank of the Albemarle is a non-profit organization working to eliminate hunger through nutritious food distribution, education and advocacy in cooperation with the community. Currently, the Food Bank supports over 100 different member programs throughout 15 counties in Northeastern North Carolina. Their member agencies include food pantries, soup kitchens, day care centers, senior citizen residential programs and shelters.
The Food Bank, in partnership with public schools, also provides healthy, after school snacks to children enrolled in the Extra Program. The program provides children nutritious snacks, enabling them to focus on their homework, enjoy outdoor activities, and develop properly. "In the Elizabeth City-Pasquotank County Public School system, over 55% of the students rely on schools to provide one or two meals a day. Woodforest Charitable Foundation's donation will enable us to provide almost 2 ½ tons of food to help alleviate childhood hunger in our 15 county service area," said Liz Reasoner, Executive Director of Food Bank of the Albemarle. "We are very grateful for the positive impact the Foundation has made not only in our region but across the country." The Food Bank of the Albemarle's Extra Program currently provides snacks to 178 children at all seven of the system's elementary schools.
For more information about the Food Bank of the Albemarle, please call (252) 335-4035 or visit the Food Bank's website at www.afoodbank.org.
The Woodforest Charitable Foundation was created by Woodforest National Bank in 2005 as a direct result of its desire to support and invest in the communities in which it serves. The Foundation is creating a legacy of commitment to those in need, enriching lives and communities through dedicated leadership and faithful administration by providing funding to qualifying 501(c)(3) charities. For additional information regarding The Woodforest Charitable Foundation, call (832) 375-CARE (2273) or visit the foundation's website at www.woodforestcharitablefoundation.org.
Celebrating 30 years of service and ranked among the top earning banks in the United States, the Woodforest family of banks currently has assets of approximately $3.2 billion and services more than 770,000 customers with branches in excess of 700 throughout fifteen states: Texas, Alabama, Illinois, Indiana, Kentucky, Louisiana, Maryland, Mississippi, New York, North Carolina, Ohio, Pennsylvania, South Carolina, Virginia and West Virginia. For information about Woodforest National Bank, please call 832-375-2000 or visit the bank's website at www.woodforest.com.