Woodforest Charitable Foundation Donates donates $1,500 to Second Harvest Food Bank of Southeast North Carolina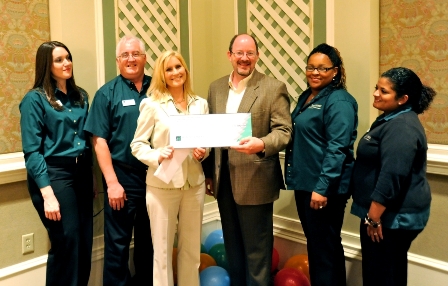 ---
FAYETTVILLE, North Carolina (June 14, 2010) – Woodforest Charitable Foundation donates $1,500 in support of Second Harvest Food Bank of Southeast North Carolina's BackPack Program.
One in four people in a soup kitchen line is a child. The growth of the Second Harvest Food Bank of Southeast North Carolina network is directly related to the growing number of hungry people in North Carolina. The Food Bank remains committed to fighting hunger by providing nutritious food to a network of over 200 non-profit members throughout seven counties. The agencies often come in a variety of forms to include food pantries, churches, soup kitchens, homeless shelters, other charitable organizations and group homes.
Second Harvest Food Bank of Southeast North Carolina is also a proud supporter of the BackPack Program. The BackPack Program is a system of assisting children of low income families with food, to sustain them over each weekend. Children receiving subsidized or free school meals are guaranteed food throughout the week but have no such resources over the weekend. This program provides them with enough nutritious food to last the weekend, issued each week, from a school representative.
"Unfortunately, children tend to be the innocent victims when families experience financial difficulty," said Kim Marling, Vice President/Executive Director of Woodforest Charitable Foundation. "We firmly believe that no child should ever have to say 'it's not my turn to eat today'. We are pleased to assist the Second Harvest Food Bank of Southeast North Carolina's BackPack Program which provides nutritious meals to almost 600 children who are at risk of being food deprived over the weekend."
For more information about Second Harvest Food Bank of Southeast North Carolina, please call 1-800-758-6923 or visit www.ccap-inc.org/foodbank.
The Woodforest Charitable Foundation was created by Woodforest National Bank in 2005 as a direct result of its desire to support and invest in the communities in which it serves. The Foundation is creating a legacy of commitment to those in need, enriching lives and communities through dedicated leadership and faithful administration by providing funding to qualifying 501(c)(3) charities. For additional information regarding The Woodforest Charitable Foundation, call (832) 375-CARE (2273) or visit the foundation's website at www.woodforestcharitablefoundation.org.
Celebrating 30 years of service and ranked among the top earning banks in the United States, the Woodforest family of banks currently has assets of approximately $3.2 billion and services more than 770,000 customers with branches in excess of 700 throughout fifteen states: Texas, Alabama, Illinois, Indiana, Kentucky, Louisiana, Maryland, Mississippi, New York, North Carolina, Ohio, Pennsylvania, South Carolina, Virginia and West Virginia. For information about Woodforest National Bank, please call 832-375-2000 or visit the bank's website at www.woodforest.com.