Woodforest Charitable Foundation donates $1,560 to the Food Bank of Central New York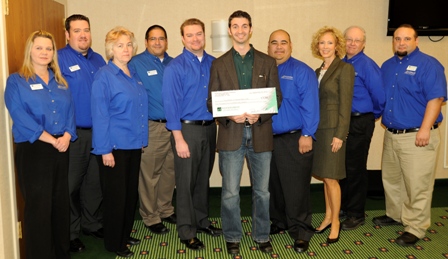 ---
EAST SYRACUSE, NY – Woodforest Charitable Foundation makes a $1,560 contribution to the Food Bank of Central New York.
Hunger is a very serious problem in the United States. Despite our nation's great wealth in food and economy, we still have 37 million Americans who rely on emergency food assistance. For the thousands of people who use charitable food programs in Central New York, hunger shows no bias. Currently, 37% of the Food Bank's recipients are children under the age of 18. In response to this devastating statistic the Food Bank began its Kids Café Program in effort to eliminate childhood hunger.
The Kids Café Program was established to provide healthy meals for children in a safe after-school environment. The Food Bank of Central New York provides meals to 440 children every weekday at seven Kids Café sites. In addition to the meal portion of the Kids Café Program, the children also participate in Kids Café Club. Each Kids Café Club site receives nine monthly nutrition education visits during the year by a Food Bank registered dietitian, combining both nutrition education and exercise promotion to teach children the importance of living a healthy lifestyle. Children are given the opportunity to learn how to prepare healthy meals and snacks, and are encouraged and rewarded for participating in various physical activities.
"This has been one of the most demanding years in our history due to the economic crisis and high unemployment," stated Thomas Slater, Executive Director of the Food Bank of Central New York. "Thank you for your generous gift the Food Bank of Central New York for our Kids Café Program, where it will help us to provide healthy meals for children in a safe, after-school environment. We could not accomplish our mission without your belief in and support for our work."
The Food Bank of Central New York is a not-for-profit organization working to eliminate hunger through nutritious food distribution, education and advocacy in cooperation with the community. The Food Bank partners with 476 member programs throughout an eleven-county service area.
For more information about the Food Bank of Central New York's Kids Café Program, please visit www.foodbankcny.org or call (315) 437-1899.
The Woodforest Charitable Foundation was created by Woodforest National Bank in 2005 as a direct result of its desire to support and invest in the communities in which it serves. The Foundation is creating a legacy of commitment to those in need, enriching lives and communities through dedicated leadership and faithful administration by providing funding to qualifying 501(c)(3) charities. For additional information regarding The Woodforest Charitable Foundation, call (832) 375-CARE (2273) or visit the Foundation's website at www.woodforestcharitablefoundation.org.
Celebrating 30 years of service and ranked among the top earning banks in the United States, the Woodforest family of banks currently has assets of approximately $3.2 billion and services more than 850,000 customers with branches in excess of 750 throughout seventeen states: Texas, Alabama, Florida, Georgia, Illinois, Indiana, Kentucky, Louisiana, Maryland, Mississippi, New York, North Carolina, Ohio, Pennsylvania, South Carolina, Virginia and West Virginia. For information about Woodforest National Bank, please call 832-375-2000 or visit the bank's website at www.woodforest.com.