Woodforest Charitable Foundation Donates $500 to the Food Bank of Greenwood County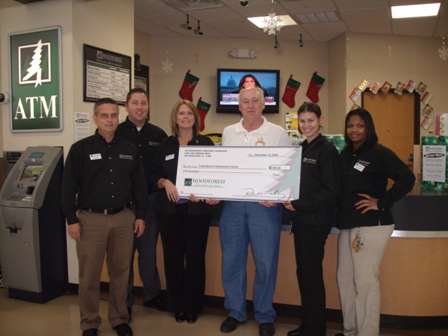 ---
GREENWOOD, South Carolina (October, 2009) - Woodforest Charitable Foundation recently donated $500 to the Food Bank of Greenwood County.
Established in 1983, the Food Bank of Greenwood County is an emergency food pantry that provides a basic one-week supply of groceries to persons in need. The groceries are packed by a formula that considers the size of the family and the needs of the children, the elderly and those without cooking facilities. The demand for aid from local food banks continues to rise in conjunction with the escalation of poverty rates. As a result, the Food Bank of Greenwood County served in excess of 13,000 people in 2009, a 53% increase over 2008. In addition to the food pantry, the Food Bank also supports the Senior Adult Commodity Supplemental Food Program (CSFP). The CSFP is a program that offers free monthly nutritious food to Greenwood County senior residents, age 60 and up. "Thank you for the recent donation from the Woodforest Charitable Foundation," said James F. Murphy, Executive Director of the Food Bank of Greenwood County. "This contribution will help the Food Bank of Greenwood County better serve its clients throughout the remainder of 2009 and 2010."
For more information about the Food Bank of Greenwood County, please call (864) 227- 1556.
The Woodforest Charitable Foundation was created by Woodforest National Bank in 2005 as a direct result of its desire to support and invest in the communities in which it serves. The Foundation is creating a legacy of commitment to those in need, enriching lives and communities through dedicated leadership and faithful administration by providing funding to qualifying 501(c)(3) charities. For additional information regarding The Woodforest Charitable Foundation, call (832) 375-CARE (2273) or visit the foundation's website at www.woodforestcharitablefoundation.org.
Celebrating 30 years of service and ranked among the top earning banks in the United States, the Woodforest family of banks currently has assets of approximately $3.2 billion and services more than 770,000 customers with branches in excess of 700 throughout fifteen states: Texas, Alabama, Illinois, Indiana, Kentucky, Louisiana, Maryland, Mississippi, New York, North Carolina, Ohio, Pennsylvania, South Carolina, Virginia and West Virginia. For information about Woodforest National Bank, please call 832-375-2000 or visit the bank's website at www.woodforest.com.