Food Bank of North Alabama receives $1,755 donation from Woodforest Charitable Foundation.
09-April, 2013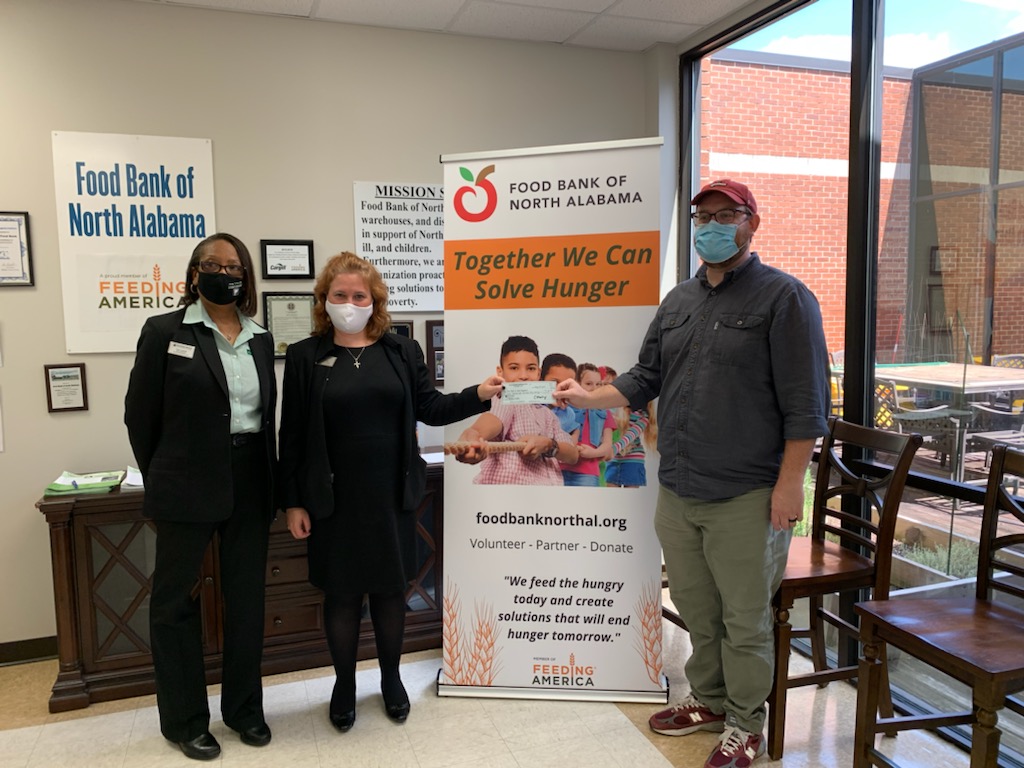 ---
Food Bank of North Alabama
Huntsville, AL - On a continual basis Woodforest National Bank employees perform a multitude of fundraising events benefitting the Woodforest Charitable Foundation. Both Woodforest National Bank and Woodforest Charitable Foundation are committed to making a positive impact in the communities in which Woodforest serves. This partnership benefits the community and organizations such as Food Bank of North Alabama, which recently received a $1,755 donation, from the Woodforest Charitable Foundation.

Food Bank of North Alabama was opened in 1984, and now serves 11 counties with the help of 216 affiliated non-profit feeding programs that procure and distribute 5 million pounds of food annually.
Food Bank of North Alabama has a two-fold mission:
(1) We procure, warehouse, and distribute food products in support of North Alabama's needy, ill and children.
(2) Furthermore, we are a regionally-based organization proactively committed to finding solutions to help end hunger and poverty.
Food Bank of North Alabama participates in many feeding programs including Disaster Relief, Community Food Security, and BackPack Programs.
The BackPack Program provides children with nutritious food on the weekends and holidays when school meals are not available. Backpacks are given out on the Friday before the weekend, and contain six meals and two snacks. Each backpack consists of a variety of child friendly, easy to prepare food including protein and fruit juices.

For more information on the Bay Area Food Bank call 256-539-2256 or visit www.fbofna.org

Woodforest Charitable Foundation
The Woodforest Charitable Foundation was created by Woodforest National Bank in 2005 as a direct result of its desire to support and invest in the communities in which it serves. The Foundation is committed to assisting those in need, enriching lives and communities through dedicated leadership and faithful administration by providing funding to qualifying 501(c)(3) charities. For additional information regarding the Woodforest Charitable Foundation, call (832) 375-CARE (2273) or visit the foundation's website at www.woodforestcharitablefoundation.org.
Woodforest National Bank
Celebrating 32 years of service and ranked among the top earning banks in the United States, the Woodforest family of banks currently has assets of approximately $3.7 billion and services more than 837,000 customers with branches in excess of 760 throughout seventeen states: Texas, Alabama, Florida, Georgia, Illinois, Indiana, Kentucky, Louisiana, Maryland, Mississippi, New York, North Carolina, Ohio, Pennsylvania, South Carolina, Virginia and West Virginia. For information about Woodforest National Bank, please call 832-375-2000 or visit the bank's website at www.woodforest.com.