Woodforest Charitable Foundation donates $2,300 to Foodbank of the Virginia Peninsula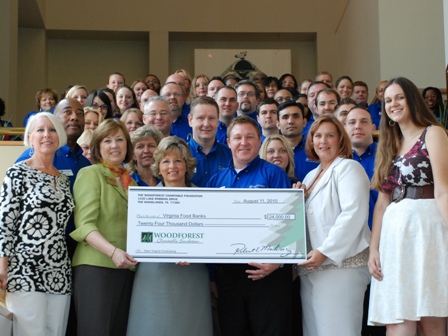 ---
NEWPORT NEWS, VA – Foodbank of the Virginia Peninsula welcomes a $2,300 gift from Woodforest Charitable Foundation in support of their Backpack Program.
The Backpack Program was created to break the cycle of hunger and food insecurity for children in low-income communities by providing them with healthy, nutritious foods that are easy-to-prepare. The program sends nutritious, shelf stable food home on Friday with children who may not receive enough food over the weekend and extended holidays. The backpacks are filled and distributed each week with the assistance of various volunteers at the Foodbank. The Foodbank currently serves 1,235 students each week.
"The current state of the economy in our country and region continues to challenge our meager resources," stated Stephen Terveer, CEO, Foodbank of the Virginia Peninsula. "Without Woodforest Charitable Foundation's generosity, we could not fulfill our mission of distributing food effectively through collaborative efforts that minimize hunger, promote nutrition and self-reliance through education."
For more information about Foodbank of the Virginia Peninsula, please call 757-596-7188 or visit www.hrfoodbank.org.
The Woodforest Charitable Foundation was created by Woodforest National Bank in 2005 as a direct result of its desire to support and invest in the communities in which it serves. The Foundation is creating a legacy of commitment to those in need, enriching lives and communities through dedicated leadership and faithful administration by providing funding to qualifying 501(c)(3) charities. For additional information regarding The Woodforest Charitable Foundation, call 832-375-CARE (2273) or visit the Foundation's website at www.woodforestcharitablefoundation.org.
Celebrating 30 years of service and ranked among the top earning banks in the United States, the Woodforest family of banks currently has assets of approximately $3.2 billion and services more than 850,000 customers with branches in excess of 750 throughout seventeen states: Texas, Alabama, Florida, Georgia, Illinois, Indiana, Kentucky, Louisiana, Maryland, Mississippi, New York, North Carolina, Ohio, Pennsylvania, South Carolina, Virginia and West Virginia. For information about Woodforest National Bank, please call 832-375-2000 or visit the bank's website at www.woodforest.com.