Woodforest Charitable Foundation Donates $600 to Foodlink, Inc.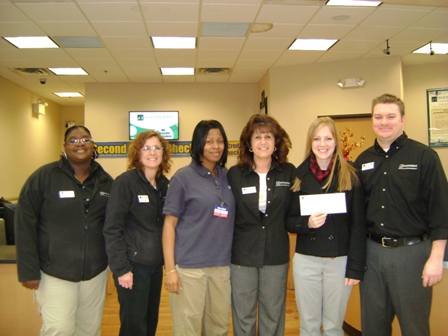 ---
ROCHESTER, New York (January, 2010) - Woodforest Charitable Foundation presents Foodlink, Inc. with a $600 donation. The funds will support their Kids Café program sites.
The Kids Café is a national program that fights childhood hunger and the consequences of poor nutrition. Woodforest Charitable Foundation's recent grant of $600 will help Foodlink, Inc. continue its mission of alleviating hunger throughout the community.
Foodlink is a regional food bank that rescues and redistributes nearly 10 million pounds of food annually to a network of 500 member agencies in a 10 county area. Foodlink's mission is to empower at-risk communities by providing food, nutrition, education and resources in Central and Western New York. Through the redirection of scarce resources to programs that meet the emotional, physical and spiritual needs of clients, the food bank is able to help non-profit agencies save vital dollars on their food budget.
Foodlink is also a proud supporter of the Kids Café program. The Kids Cafe program was established to provide healthy meals for underserved children in a safe after school environment. The Café works to lessen the impact of hunger by offering a hot nutritious dinner from a menu that relies on fresh fruits and vegetables, many of which come from Foodlink's own Freshwise Farms. Currently, Foodlink provides meals for 1,500 children every weekday at its 45 Kids Café sites. In addition to food, Foodlink's Kids Café's provide fun and educational services that focus on nutrition, fitness and cultural activities with the goal of developing healthy lifestyles at an early age.
For more information, please call (585) 328-3880, e-mail info@foodlinkny.org or visit Foodlink's website at www.foodlinkny.org.
The Woodforest Charitable Foundation was created by Woodforest National Bank in 2005 as a direct result of its desire to support and invest in the communities in which it serves. The Foundation is creating a legacy of commitment to those in need, enriching lives and communities through dedicated leadership and faithful administration by providing funding to qualifying 501(c)(3) charities. For additional information regarding The Woodforest Charitable Foundation, call (832) 375-CARE (2273) or visit the foundation's website at www.woodforestcharitablefoundation.org.
Celebrating 30 years of service and ranked among the top earning banks in the United States, the Woodforest family of banks currently has assets of approximately $3.2 billion and services more than 770,000 customers with branches in excess of 700 throughout fifteen states: Texas, Alabama, Illinois, Indiana, Kentucky, Louisiana, Maryland, Mississippi, New York, North Carolina, Ohio, Pennsylvania, South Carolina, Virginia and West Virginia. For information about Woodforest National Bank, please call 832-375-2000 or visit the bank's website at www.woodforest.com.