Friendship Center receives $5,000 donation from Woodforest Charitable Foundation.
19-April, 2012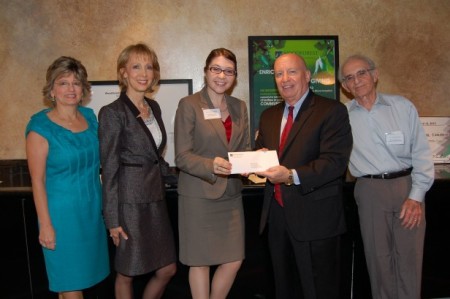 ---
Conroe, TX – In support of the Meals-on-Wheels Program, Woodforest Charitable Foundation donates $5,000 to The Friendship Center.
The Friendship Center was established in 1973 and is the only non-profit organization specifically dedicated to serving the needs and enriching the lives of seniors throughout Montgomery County, Texas.
The Friendship Center's numerous core services including: Meals-on-Wheels, Transportations Services, Senior Resources and Activity Programs. The Meals on Wheels program provides seniors with home deliveries of nutritious, hot and frozen meals. In addition to the meals, homebound seniors also receive a visit by a caring volunteer. Over 400 seniors county wide are enrolled in the MOW program.
Meals consist of an entrée with vegetables and fruit and are prepared at The Friendship Kitchens in The Woodlands. Volunteers – individuals, churches and businesses – begin picking up hot meals from the centers at and then head out on their routes for delivery. Meals are delivered to seniors either daily or weekly, depending on where they live. To qualify for the Meals on Wheels program, a person must be 60 years of age or older, live in Montgomery County and have a physical impairment that makes the simple task of daily living a challenge.
The applicants are pre-screened, and they are visited in their homes to see what special needs they might have. Many seniors live alone, and for most, the weekly visit from the MOW volunteer is almost more important to them than the meal. The center receives funds from the United Way, the Houston-Galveston Area Agency Council on Aging, city, county, and government grants and donations. The Center's goal is to never turn any senior away, for financial reasons. Participants are encouraged, but not obligated, to contribute donations for the service.
"Please accept our sincere thanks for your support and know that your donation has directly benefitted many grateful seniors in your community. We appreciate your generosity and commitment to our mission," said Anna C. Croghan, Interim Executive Director of The Friendship Center.
For more information on Woodforest Charitable Foundation's contributions to this organization, please contact this agency directly at (936) 756-5828 or visit www.thefriendshipcenter.com.
The Woodforest Charitable Foundation was created by Woodforest National Bank in 2005 as a direct result of its desire to support and invest in the communities in which it serves. The Foundation is creating a legacy of commitment to those in need, enriching lives and communities through dedicated leadership and faithful administration by providing funding to qualifying 501(c) (3) charities. For additional information regarding The Woodforest Charitable Foundation, call (832) 375-CARE (2273) or visit the foundation's website at www.woodforestcharitablefoundation.org.
Celebrating 32 years of service and ranked among the top earning banks in the United States, the Woodforest family of banks currently has assets of approximately $3.7 billion and services more than 1 million customers with branches in excess of 780 throughout 17 states: Texas, Alabama, Florida, Georgia, Illinois, Indiana, Kentucky, Louisiana, Maryland, Mississippi, New York, North Carolina, Ohio, Pennsylvania, South Carolina, Virginia and West Virginia. For information about Woodforest National Bank, please call k832-375-2000 or visit the bank's website at www.woodforest.com.