Habitat for Humanity – Montgomery County receives $25,000 donation from WCF.
19-April, 2012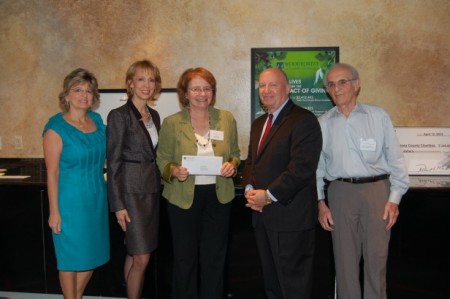 ---
MONTGOMERY COUNTY, Texas - Woodforest Charitable Foundation recently contributed $25,000 to Habitat for Humanity-Montgomery County for continuing support of a housing neighborhood in Conroe.
Montgomery County Habitat for Humanity is a volunteer-based organization that works in partnership with God and people from all walks of life to improve the quality of life in the community by building and rehabilitating simple, decent houses alongside homeowner partner families. In addition to a down payment and monthly mortgage payments, homeowners invest hundreds of hours of their own labor into building their Habitat house and the houses of others. Habitat houses are sold to partner families at no profit and financed with affordable loans. The homeowners' monthly mortgage payments are used to build still more Habitat houses.
The mission of Habitat for Humanity is to seek to put God's love into action by bringing people together to build homes, communities and hope. Their principles are to demonstrate the love of Jesus Christ, focus on shelter, advocate for affordable housing, promote dignity and hope, and to support sustainable and transformational development.
Since opening the initial phase of the 37-acre Cedar Creek neighborhood to development in 2009, over 20 homes have been dedicated or are currently under construction. The Phase 2 streets, drainage, and other infrastructure were completed in 2011. This Habitat home neighborhood will eventually accommodate almost 100 single-family homes, green space and a community garden. There are plenty of homes to be built on the available lots in Cedar Creek over the next few years; however, the pace of building the remaining homes is largely dependent on having corporations and other organizations committing to being a home sponsor. In addition to the ongoing construction in Cedar Creek, HFHMC will continue to build homes in other parts of the county.
"Your donation will go a long way towards helping Montgomery County Habitat for Humanity provide permanent housing solutions to very low-income working families. Thank you for your part in making the first half of 2012 successful. We look forward to starting on the 'Woodforest Home' later this year," said Jennifer Roth, Development Director of Habitat for Humanity Montgomery County.
For more information on Woodforest Charitable Foundation's contributions to this organization, please contact this agency directly at 936-441-HOME (4663) or visit www.hfhmctx.org.
The Woodforest Charitable Foundation was created by Woodforest National Bank in 2005 as a direct result of its desire to support and invest in the communities in which it serves. The Foundation is creating a legacy of commitment to those in need, enriching lives and communities through dedicated leadership and faithful administration by providing funding to qualifying 501(c) (3) charities. For additional information regarding The Woodforest Charitable Foundation, call (832) 375-CARE (2273) or visit the foundation's website at www.woodforestcharitablefoundation.org.
Celebrating 32 years of service and ranked among the top earning banks in the United States, the Woodforest family of banks currently has assets of approximately $3.7 billion and services more than 1 million customers with branches in excess of 780 throughout 17 states: Texas, Alabama, Florida, Georgia, Illinois, Indiana, Kentucky, Louisiana, Maryland, Mississippi, New York, North Carolina, Ohio, Pennsylvania, South Carolina, Virginia and West Virginia. For information about Woodforest National Bank, please call k832-375-2000 or visit the bank's website at www.woodforest.com.