Woodforest Charitable Foundation donates $2,300 to Golden Harvest Food Bank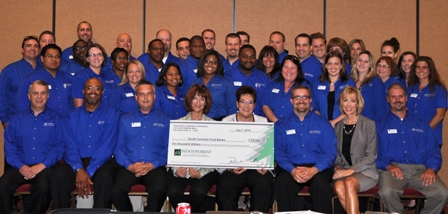 ---
AIKEN, SC – Golden Harvest Food Bank welcomes a donation of $2,300 from Woodforest Charitable Foundation. The funds will support the Food Bank's BackPack Program.
The BackPack Program is a project of Golden Harvest Food Bank and Feeding America. It is a simple, effective answer to the problem of child hunger after children return home from school for the weekend. Free and reduced breakfasts and lunches are only available during the week, so our program provides needy children with meals to take home on Fridays. This nutritious package, weighing approximately three pounds, contains dry cereal, shelf-stable milk, pop-top mini-meals like Beef and Franks, Macaroni-O's, applesauce or canned fruit, and juice boxes.
"In this economic environment more and more families are forced to choose between feeding their family and providing other necessities," said Kim Marling, Executive Director/Vice President of Woodforest Charitable Foundation. "We are grateful for the opportunity to support Golden Harvest Food Bank's BackPack Program and challenge others to join our combined efforts to end childhood hunger."
For more information about Golden Harvest Food Bank, please call (803) 648-0752 or visit www.goldenharvest.org.
The Woodforest Charitable Foundation was created by Woodforest National Bank in 2005 as a direct result of its desire to support and invest in the communities in which it serves. The Foundation is creating a legacy of commitment to those in need, enriching lives and communities through dedicated leadership and faithful administration by providing funding to qualifying 501(c)(3) charities. For additional information regarding The Woodforest Charitable Foundation, call (832) 375-CARE (2273) or visit the Foundation's website at www.woodforestcharitablefoundation.org.
Celebrating 30 years of service and ranked among the top earning banks in the United States, the Woodforest family of banks currently has assets of approximately $3.2 billion and services more than 850,000 customers with branches in excess of 750 throughout seventeen states: Texas, Alabama, Florida, Georgia, Illinois, Indiana, Kentucky, Louisiana, Maryland, Mississippi, New York, North Carolina, Ohio, Pennsylvania, South Carolina, Virginia and West Virginia. For information about Woodforest National Bank, please call 832-375-2000 or visit the bank's website at www.woodforest.com.