Woodforest Charitable Foundation donates $30,000 in support of Houston Food Bank's Backpack Buddies Program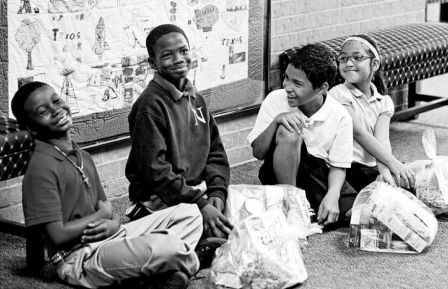 ---
HOUSTON, TX - On September 1, representatives of the Woodforest Charitable Foundation and the Houston Food Bank visited Nitsch Elementary School in support of the Backpack Buddy Club. This club is a program of the Houston Food Bank. It provides food on Fridays that children at Nitsch and 230 other schools in the Houston area take home for weekend nourishment. Food is distributed at Nitsch with parental approval in a discreet manner to avoid inviting unwanted attention.
Brian Greene, president of the Houston Food Bank, accepted a big check for $30,000 from the Woodforest Charitable Foundation. He noted, "We are very appreciative of Woodforest Foundation's support of the Houston Food Bank that makes possible the Backpack Buddy Club. We are also proud of our partnership with Nitsch Elementary School."
David Chaney, the director of corporate and foundation giving for the food bank, pointed out that by providing food for children, the food bank also promotes academic achievement. As he explained, "We know that if children get healthy meals, they will be more successful in school."
Ms. Kim Marling who is vice president of the foundation explained why the foundation supports the Backpack Buddy Club when she said, "We firmly believe that no child should have to say, 'It's not my turn to eat today.'"
Principal Carol James said, "I speak for the Nitsch community when I say thank you to the Houston Food Bank and the Woodforest Charitable Foundation. You make such a difference for our students. Our school is stronger academically because we are able to give children weekend nourishment through the Backpack Buddy Club."
The Woodforest Charitable Foundation was created by Woodforest National Bank in 2005 as a direct result of its desire to support and invest in the communities in which it serves. The Foundation is creating a legacy of commitment to those in need, enriching lives and communities through dedicated leadership and faithful administration by providing funding to qualifying 501(c)(3) charities. For additional information regarding The Woodforest Charitable Foundation, call 832-375-CARE (2273) or visit the Foundation's website at www.woodforestcharitablefoundation.org.
Celebrating 30 years of service and ranked among the top earning banks in the United States, the Woodforest family of banks currently has assets of approximately $3.2 billion and services more than 850,000 customers with branches in excess of 750 throughout seventeen states: Texas, Alabama, Florida, Georgia, Illinois, Indiana, Kentucky, Louisiana, Maryland, Mississippi, New York, North Carolina, Ohio, Pennsylvania, South Carolina, Virginia and West Virginia. For information about Woodforest National Bank, please call 832-375-2000 or visit the bank's website at www.woodforest.com.