Woodforest Charitable Foundation assists area non-profits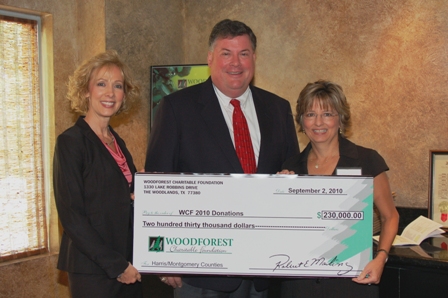 ---
THE WOODLANDS - The Woodforest Charitable Foundation honored about 20 Montgomery County not-for-profits with a total of $230,000 along with a thank you for each organization's contributions to the community during a September 2 appreciation luncheon at Amerigo's Grille.
In addition to the funds, State Senator Tommy Williams, R-The Woodlands, president of Woodforest Financial Services, presented proclamations to each charity, commending each for their work and partnership with the charitable foundation.
"We wanted to bring the charities together to recognize them for their contributions to the community," said Kim Marling, the foundation's vice president.
The event also provided networking and partnership opportunities in an economic climate that, overall, has had an impact on the amount of donations being taken in, Marling said.
"There's so much need right now, yet (private) support has fallen," she said.
In 2010, Woodforest National Bank's charitable foundation, through branches in 17 states, has handed out $640,000 in donations to 128 charities, Marling said.
"It just shows what a significant impact we can make when we put our minds to it," said Vicki Richmond, the foundation's secretary and treasurer.
Charities recognized were: Boys & Girls Country, Bridgewood Farms, Children's Miracle Network, Children's Safe Harbor, Conroe Family YMCA, Habitat for Humanity, Houston Food Bank, Humane Society of Montgomery County, Interfaith of The Woodlands, Montgomery County Emergency Assistance, Montgomery County Food Bank, Montgomery County Women's Center, Montgomery County Youth Services, North Channel Assistance Ministries, Special Angels of the Woodland, Texas New Community Alliance (New Danville), The Community Clinic, The Friendship Center, The Rose and Tomogwa.
The Woodforest Charitable Foundation was created by Woodforest National Bank in 2005 as a direct result of its desire to support and invest in the communities in which it serves. The Foundation is creating a legacy of commitment to those in need, enriching lives and communities through dedicated leadership and faithful administration by providing funding to qualifying 501(c)(3) charities. For additional information regarding The Woodforest Charitable Foundation, call (832) 375-CARE (2273) or visit the foundation's website at www.woodforestcharitablefoundation.org.