Woodforest Charitable Foundation Donates $3,750 to Indian Summer Camp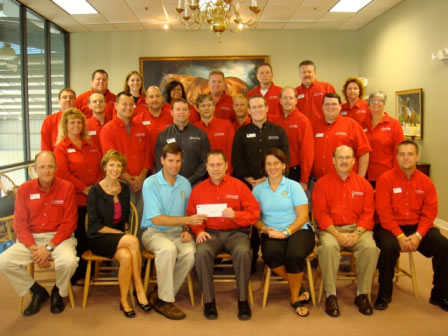 ---
LOUISVILLE, Kentucky – Woodforest Charitable Foundation presents Indian Summer Camp with a $3,750 donation.
Woodforest Charitable Foundation's recent donation will help support Indian Summer Camp in their endeavor to afford children with cancer the chance to create positive, lasting memories.
Indian Summer Camp is a loving community that offers an extraordinary opportunity to influence the lives of young, childhood cancer patients. Since its inception in 1982, Indian Summer Camp has provided children with cancer ages six to 18, as well as cancer survivors, an opportunity to be a kid again. Campers are surrounded with other children who are all too familiar with words like chemotherapy, radiation and doctor's appointments. The children are able to make friends, laugh, and perhaps even forget the word cancer. The Camp offers activities not easily provided at home or in medical institutions. Also, a full medical staff is on hand during the entire session in the event any of the children develop a need for medical attention. Some campers even take their normal chemotherapy treatments in the camp's medical station. To date, there are over 90 kids attending the weeklong camp at a cost of over $70,000. "Indian Summer Camp is completely free to these children and it is only because of people and/or organizations like yours that make it possible," said Greg Gitschier, Executive Director of Indian Summer Camp. "Again, we thank you for your support."
For more information about Indian Summer Camp, please call (859) 219-0772 or visit www.iscamp.org.
The Woodforest Charitable Foundation was created by Woodforest National Bank in 2005 as a direct result of its desire to support and invest in the communities in which it serves. The Foundation is creating a legacy of commitment to those in need, enriching lives and communities through dedicated leadership and faithful administration by providing funding to qualifying 501(c)(3) charities. For additional information regarding The Woodforest Charitable Foundation, call (832) 375-CARE (2273) or visit the foundation's website at www.woodforestcharitablefoundation.org.
Celebrating 30 years of service and ranked among the top earning banks in the United States, the Woodforest family of banks currently has assets of approximately $3.2 billion and services more than 770,000 customers with branches in excess of 700 throughout seventeen states: Texas, Alabama, Florida, Georgia, Illinois, Indiana, Kentucky, Louisiana, Maryland, Mississippi, New York, North Carolina, Ohio, Pennsylvania, South Carolina, Virginia and West Virginia. For information about Woodforest National Bank, please call 832-375-2000 or visit the bank's website at www.woodforest.com.