Woodforest Charitable Foundation Donates $13,000 to Interfaith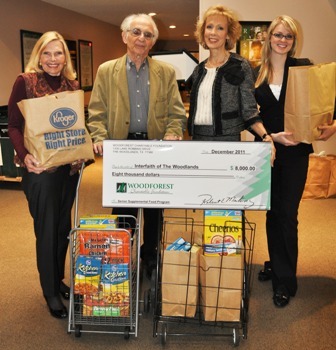 ---
THE WOODLANDS, TX - Just in time for the holiday rush of individuals in need of food this December, Woodforest Charitable Foundation made an incredible difference with their contribution of $8,000 to help fund the senior supplemental food program and $5,000 for the Interfaith Food Pantry.
"The Woodforest Charitable Foundation has generously donated to Interfaith of The Woodlands' for many years," shared Dr. Ann Snyder, President and CEO of Interfaith of The Woodlands. "Both programs will greatly benefit from their financial donation, and we are extremely grateful."
"Woodforest employees pride themselves on giving back to the community through volunteer work and monetary contributions," said Kim Marling, Executive Director & Vice President of Woodforest Charitable Foundation. "Through the Holiday season we hope to lighten the load for those who are struggling through our support of Interfaith's programs designed to meet the needs of citizens at risk of hunger."
From January 1, 2011 to November 30, 2011, Interfaith assisted approximately 13,300 individuals with food. December is also an extremely busy month with many seniors and families in need of food.
To learn more about Interfaith of The Woodlands, please call 281-367-1230 or view the website at www.woodlandsinterfaith.org. For information about the Woodforest Charitable Foundation, view woodforestcharitablefoundation.org or call 832-375-CARE (2273).