Woodforest Charitable Foundation donates $185 to Suncoast Harvest Food Bank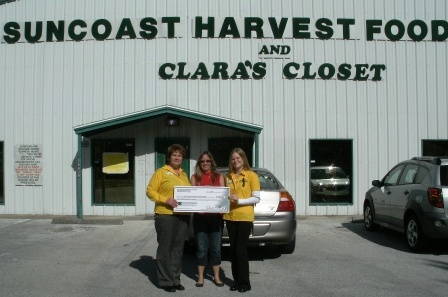 ---
LAND O'LAKES, FL – Woodforest Charitable Foundation recently made a $185 donation to Suncoast Harvest Food Bank.
A well-balanced, nutritional diet is the foundation upon which individuals build a better life. Today almost 100,000 residents of Pasco, Hernando, Citrus, and Sumter Counties live in poverty and over 15,000 adults are unemployed.
Established in 1991, Suncoast Harvest Food Bank supplies nutritious food, household, personal care items and paper products to over 160 charitable feeding programs serving low-income and poverty stricken people in their multi-county service area. Partner agencies include faith and community based food pantries, health clinics, senior service centers, domestic violence and homeless shelters, and homes for the mentally ill, the disabled and troubled youth.
The Food Bank's objective is to alleviate hunger, which in turn fortifies the will of individuals and families to succeed and improves their health. "Woodforest is pleased to support Suncoast Harvest Food Bank's mission of ending hunger," expressed Kim Marling, Executive Director & Vice President of Woodforest Charitable Foundation. "Their dedication to the community is providing a critical necessity to thousands of individuals in need."
For more information about Suncoast Harvest Food Bank, please call (813)929-0200 or visit www.suncoastharvest.org.
The Woodforest Charitable Foundation was created by Woodforest National Bank in 2005 as a direct result of its desire to support and invest in the communities in which it serves. The Foundation is creating a legacy of commitment to those in need, enriching lives and communities through dedicated leadership and faithful administration by providing funding to qualifying 501(c)(3) charities. For additional information regarding The Woodforest Charitable Foundation, call (832) 375-CARE (2273) or visit the Foundation's website at www.woodforestcharitablefoundation.org.
Celebrating 30 years of service and ranked among the top earning banks in the United States, the Woodforest family of banks currently has assets of approximately $3.2 billion and services more than 850,000 customers with branches in excess of 750 throughout seventeen states: Texas, Alabama, Florida, Georgia, Illinois, Indiana, Kentucky, Louisiana, Maryland, Mississippi, New York, North Carolina, Ohio, Pennsylvania, South Carolina, Virginia and West Virginia. For information about Woodforest National Bank, please call 832-375-2000 or visit the bank's website at www.woodforest.com.