Woodforest Charitable Foundation Donates $500 to Lowcountry Food Bank Inc.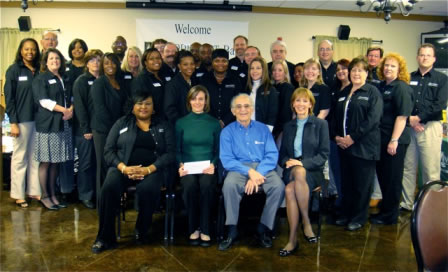 ---
CHARLESTON, South Carolina – Lowcountry Food Bank, Inc. received a generous donation of $500 from Woodforest Charitable Foundation.
With South Carolina's unemployment rates hitting a new high at 12.3 percent, even formerly middle-class families are struggling to meet their basic needs (SC Employment Security Commission). Woodforest Charitable Foundation's recent donation of $500 to Lowcountry Food Bank will help support their mission of acquiring and redistributing food to affiliated non-profit agencies.
The Lowcountry Food Bank's mission is to feed the poor and hungry of the ten coastal counties of South Carolina by soliciting and distributing healthy food and grocery products to non-profit agencies serving the poor, and to educate the public about the problems of and solutions to domestic hunger. The Lowcountry Food Bank was founded in 1983 as a clearinghouse for donated food items through the generosity of both Coastal Community Foundation of South Carolina and Trident United Way. The Food Bank's service model is simple and cost-effective. Employees collect, inspect, maintain, and distribute otherwise wasted food products from manufacturers, food distributors, the government, supermarkets, wholesalers along with farmers to redistribute these food products to a grassroots network of over 320 member agencies providing hunger-relief services.
The Lowcountry Food Bank also offers resources such as nutrition education, safe food handling practices, and maintenance information. To learn more about Lowcountry Food Bank, please call (843) 747-8146 or visit www.lowcountryfoodbank.org.
The Woodforest Charitable Foundation was created by Woodforest National Bank in 2005 as a direct result of its desire to support and invest in the communities in which it serves. The Foundation is creating a legacy of commitment to those in need, enriching lives and communities through dedicated leadership and faithful administration by providing funding to qualifying 501(c)(3) charities. For additional information regarding The Woodforest Charitable Foundation, call (832) 375-CARE (2273) or visit the foundation's website at www.woodforestcharitablefoundation.org.
Celebrating 30 years of service and ranked among the top earning banks in the United States, the Woodforest family of banks currently has assets of approximately $3.2 billion and services more than 770,000 customers with branches in excess of 700 throughout seventeen states: Texas, Alabama, Florida, Georgia, Illinois, Indiana, Kentucky, Louisiana, Maryland, Mississippi, New York, North Carolina, Ohio, Pennsylvania, South Carolina, Virginia and West Virginia. For information about Woodforest National Bank, please call 832-375-2000 or visit the bank's website at www.woodforest.com.
.