Woodforest Charitable Foundation Donates donates $3,500 to MANNA FoodBank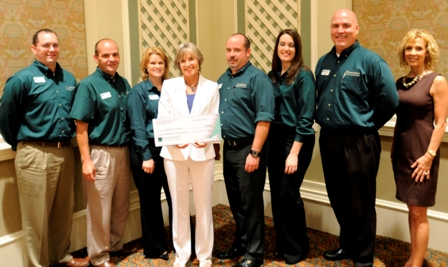 ---
ASHEVILLE, North Carolina (June 14, 2010) – During these times of economic uncertainty, hunger and the threat of hunger is growing in Western North Carolina. Woodforest Charitable Foundation's recent donation of $3,500 to MANNA FoodBank will support their efforts to distribute food to undernourished children and their families.
Founded in 1982, MANNA FoodBank is a private, nonprofit organization that collects, stores, warehouses and distributes food to accredited nonprofits throughout 16 counties in Western North Carolina. In 2009, the FoodBank disturbed over 7.6 million pounds of food to 106,600 citizens in need.

In addition to community food distribution, the FoodBank manages MANNA Packs for Kids. The MANNA Packs for Kids Program reaches out to at-risk elementary school children in Western North Carolina. MANNA works closely with school counselors and administrators who become the eyes and ears to recognize when students and their family members may be in need of food over the weekend. To help these families, MANNA provides children a large bag (5 pounds) of supplemental food items, fresh fruits and vegetables and/or personal care items each Friday that schools are in session. "Because of Woodforest Charitable Foundation's concern and generosity, children served by the MANNA Packs for Kids Program will have the opportunity to be healthier and stronger – and to be better students," said Kitty Schaller, Executive Director of MANNA FoodBank. "With your help we will provide over 1,000 backpacks for children at-risk of hunger on the weekends and during school holidays. We truly appreciate the Foundation's partnership with MANNA FoodBank."
For more information about MANNA FoodBank, please call (828) 299-3663 or visit the FoodBank's website at www.mannafoodbank.org.
The Woodforest Charitable Foundation was created by Woodforest National Bank in 2005 as a direct result of its desire to support and invest in the communities in which it serves. The Foundation is creating a legacy of commitment to those in need, enriching lives and communities through dedicated leadership and faithful administration by providing funding to qualifying 501(c)(3) charities. For additional information regarding The Woodforest Charitable Foundation, call (832) 375-CARE (2273) or visit the foundation's website at www.woodforestcharitablefoundation.org.
Celebrating 30 years of service and ranked among the top earning banks in the United States, the Woodforest family of banks currently has assets of approximately $3.2 billion and services more than 770,000 customers with branches in excess of 700 throughout fifteen states: Texas, Alabama, Illinois, Indiana, Kentucky, Louisiana, Maryland, Mississippi, New York, North Carolina, Ohio, Pennsylvania, South Carolina, Virginia and West Virginia. For information about Woodforest National Bank, please call 832-375-2000 or visit the bank's website at www.woodforest.com.