Woodforest Charitable Foundation Donates $3,500 to Maryland Food Bank - Eastern Shore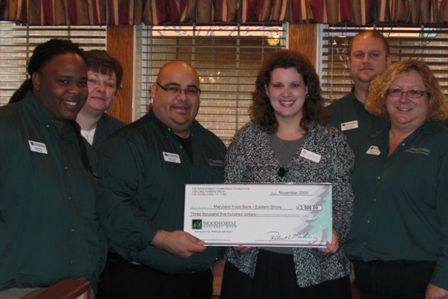 ---
BALTIMORE, Maryland – The Maryland Food Bank-Eastern Shore welcomes a $3,500 contribution from the Woodforest Charitable Foundation. The funds will help support their many Kids Café and Backpack programs.
In today's society, hunger and malnutrition have become major issues for children living in low and middle class communities. In Maryland alone, there are over 135,000 children living in food-insecure households. Established in 1980, the Maryland Food Bank – Eastern Shore has been a leader in the fight against hunger. The Food Bank acquires and redistributes food to over 240 partner agencies throughout 9 counties in Eastern Maryland.
The Maryland Food Bank – Eastern Shore supports 21 Kids Café sites. Kids Café is a community sponsored program that provides hot meals and snacks, through the use of donated food items to undernourished and impoverished children on the Eastern Shore. Providing daily meals and snacks for over 1,000 children each week costs the food bank an average of $300.00 per week. In addition to Kids Café, the Maryland Food Bank also supports The Backpack Program. The Backpack Program targets elementary school children in areas where the risk of chronic hunger is high. Both of these programs are funded through private donations.
Each child that has been identified as food-deprived receives a weekly backpack filled with child-friendly, easy to prepare, non-perishable food on Fridays to take home for the weekend. "Today, Woodforest Charitable Foundation has helped support so many children. Your gift will equate to more than four times its value (to over $14,000) because of the cooperation of many caring companies and organizations like yours throughout the state and all over the nation," said Jennifer Small, Branch Manager of Maryland Food Bank – Eastern Shore. "Thank you so much for your generous donation that will be utilized towards our Kids Café and Backpack programs. Together, we are moving towards our goal of ending childhood hunger on the Eastern Shore."
For more information, please call (410) 737-8282 or visit Maryland Food Bank – Eastern Shore's website at www.mdfoodbank.org.
The Woodforest Charitable Foundation was created by Woodforest National Bank in 2005 as a direct result of its desire to support and invest in the communities in which it serves. The Foundation is creating a legacy of commitment to those in need, enriching lives and communities through dedicated leadership and faithful administration by providing funding to qualifying 501(c)(3) charities. For additional information regarding The Woodforest Charitable Foundation, call (832) 375-CARE (2273) or visit the foundation's website at www.woodforestcharitablefoundation.org.
Celebrating 30 years of service and ranked among the top earning banks in the United States, the Woodforest family of banks currently has assets of approximately $3.2 billion and services more than 770,000 customers with branches in excess of 700 throughout seventeen states: Texas, Alabama, Florida, Georgia, Illinois, Indiana, Kentucky, Louisiana, Maryland, Mississippi, New York, North Carolina, Ohio, Pennsylvania, South Carolina, Virginia and West Virginia. For information about Woodforest National Bank, please call 832-375-2000 or visit the bank's website at www.woodforest.com.