Feeding Indiana's Hungry, Inc. Receives Donation from Woodforest Charitable Foundation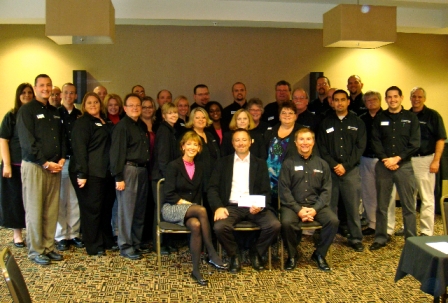 ---
Indianapolis, Indiana – Feeding Indiana's Hungry, Inc. today announced that it received a ten thousand dollar donation from the Woodforest Charitable Foundation, the charitable arm of the Woodforest National Bank, which has 45 branches in Indiana.
"On behalf of the Woodforest Charitable Foundation and Woodforest National Bank, we are grateful to have the opportunity to provide funding for programs that have identified children that are most likely to be food deprived. These children are provided nutritious meals through the Back Pack programs and Kids Café programs run by member food banks of Feeding Indiana's Hungry. In this economic environment more and more families are having to make a choice between feeding their family and providing other essential necessities," said Kim Marling, vice president of Woodforest Charitable Foundation. "These programs are privately funded. We challenge others to join our combined efforts to end hunger in our communities."
"We are grateful for the opportunity to work with a community-minded company that serves many in Indiana," said John Etling, President of Feeding Indiana's Hungry, Inc. "We will put the funding to good use as we make food purchases throughout the year for our nine member food banks around the state and reach Hoosiers through the 1,500 agencies we serve statewide."
The Woodforest Charitable Foundation was created by Woodforest National Bank in 2005 as a direct result of its desire to support and invest in the communities in which it serves. The Foundation is creating a legacy of commitment to those in need, enriching lives and communities through dedicated leadership and faithful administration by providing funding to qualifying 501(c)(3) charities. For additional information regarding The Woodforest Charitable Foundation, call (832) 375-CARE (2273) or visit the foundation's website at www.woodforestfoundation.org.
Celebrating 29 years of service and ranked among the top earning banks in the United States, the Woodforest family of banks currently has assets of approximately $3.2 billion and services more than 770,000 customers with branches in excess of 700 throughout fifteen states: Texas, Alabama, Illinois, Indiana, Kentucky, Louisiana, Maryland, Mississippi, New York, North Carolina, Ohio, Pennsylvania, South Carolina, Virginia and West Virginia. For information about Woodforest National Bank, please call 832-375-2000 or visit the bank's website at www.woodforest.com.
Feeding Indiana's Hungry, Inc. is the statewide association of Feeding America affiliated food banks (formerly America's Second Harvest). Our nine member food banks serve 1,500 agencies in all 92 counties, providing emergency food assistance to Hoosiers in need.
For more information on Feeding Indiana's Hungry, Inc., contact Emily Weikert Bryant at 317/396-9355 or ewbryant@feedingindianashungry.org, or visit the website at www.feedingindianashungry.org.