Woodforest Charitable Foundation Sponsors 47 Children on the Adopt-A-BackPacker Program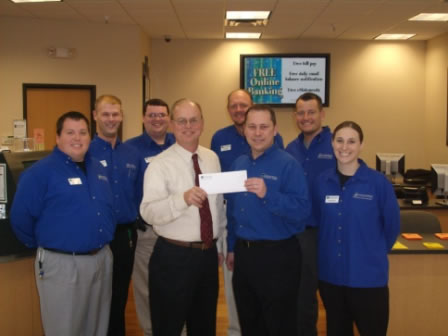 ---
Elizabethtown, Kentucky - The Woodforest Charitable Foundation presented a check in the amount of $3,750.00 to Gary Miles, Executive Director of Feeding America, Kentucky's Heartland food bank. The contribution was designated to the Adopt-A-BackPacker Program.
"The children's Adopt-A-BackPacker Program ensures that at-risk children will have food throughout the weekend, when free school meals are unavailable. Feeding America, Kentucky's Heartland's Adopt-A-BackPacker Program distributes food to over 100 schools in 23 counties feeding hundreds of children," stated Kim Marling, Vice President of Woodforest Charitable Foundation. "On behalf of Woodforest Charitable Foundation and Woodforest National Bank, I am honored to recognize and support the efforts of Feeding America, Kentucky's Heartland."
The funding will provide approximately 47 children on the Adopt-A-BackPacker Program in 23 Kentucky counties with a bag of food every week for a total of 40 weeks. Each bag of food contains 8-12 kid-friendly food items, i.e. pop-top beef stew, chicken or beanie weenies, pudding cup, fruit cup, granola bar, Jell-O, raisins, shelf-stable milk, cereal, etc.
The Woodforest Charitable Foundation was created by Woodforest National Bank in 2005 as a direct result of its desire to support and invest in the communities in which it serves. The Foundation is creating a legacy of commitment to those in need, enriching lives and communities through dedicated leadership and faithful administration by providing funding to qualifying 501(c)(3) charities. For additional information regarding The Woodforest Charitable Foundation, call (832) 375-CARE (2273) or visit the foundation's website at www.woodforestcharitablefoundation.org.
Celebrating 30 years of service and ranked among the top earning banks in the United States, the Woodforest family of banks currently has assets of approximately $3.2 billion and services more than 770,000 customers with branches in excess of 700 throughout fifteen states: Texas, Alabama, Illinois, Indiana, Kentucky, Louisiana, Maryland, Mississippi, New York, North Carolina, Ohio, Pennsylvania, South Carolina, Virginia and West Virginia. For information about Woodforest National Bank, please call 832-375-2000 or visit the bank's website at www.woodforest.com.
You can Adopt-A-BackPacker in your county for as little as .29 cents a day. Your $80 one-time or $7 monthly gift will provide a child, who has been identified as at-risk for being hungry on the weekends, with a bag of food for an entire school year! Click on the Adopt-A-BackPacker link at www.feedingamericaky.org. It is not too late to help feed a child in need.