No Small Change For Seriously Ill Children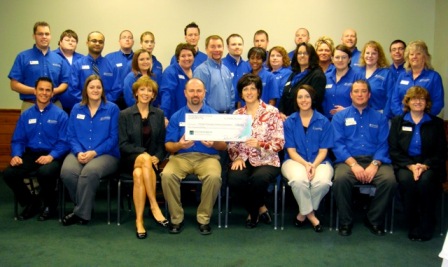 ---
Chicago, Illinois – Starlight Children's Foundation Midwest (Starlight Midwest), received a $10,000 donation from the Woodforest Charitable Foundation.
Starlight Midwest improves the quality of life for thousands of children with chronic or life threatening medical conditions. Their in-hospital education and entertainment programs and out-of-the hospital family events help children and their families cope with the pain, isolation, and stress of a serious illness.
Starlight Midwest will use these funds to increase programming and support for a hospital located in a community served by Woodforest National Bank. These programs serve to educate, entertain, combat loneliness and provide critical, on-going support throughout the length of a child's illness. Research shows Starlight programs offer more than just distraction; they lead to better overall patient outcomes including a greater willingness to return for treatment and success in managing disease. "We are honored by the continued generosity of Woodforest Charitable Foundation and truly appreciate the creative fundraising efforts of Woodforest National Bank employees," said Diane Ray, executive director, Starlight Children's Foundation Midwest. "For every child and family dealing with the effects of a serious illness, there is a story of tears, pain, hospitals, loneliness and a lost childhood. With this generous gift, Starlight Midwest will be able to change these stories by creating positive memories and help give these children back a part of their childhood."
"The Woodforest Charitable Foundation is pleased to offer support to such a worthy cause. It is extremely unfortunate when any child is diagnosed with a disease. Starlight Children's Foundation Midwest provides a valuable service to the families of these children. Woodforest National Bank employees are dedicated to making a difference in the lives of others. They support the Foundation and their causes through many fundraising events," stated Kim Marling, Vice President of Woodforest Charitable Foundation.
For more than 20 years, Starlight Children's Foundation Midwest has been dedicated to helping seriously ill children and their families cope with their pain, fear and isolation through entertainment, education and family activities in Illinois, Indiana, Michigan and Wisconsin. Starlight's programs have been proven to distract children from their pain, help them better understand and manage their illnesses, and connect families facing similar challenges so that no one feels alone. Starlight Midwest provides ongoing support to children, parents and siblings in an array of outpatient, hospital-based and web offerings. Starlight Midwest serves over 200,000 seriously ill children and their families each year with programs in 175 Midwest hospitals. For more information on the Starlight Children's Foundation Midwest, please contact Diane Ray at (312) 251-7827 x 12 or by email at dray@starlightmidwest.org or visit www.starlight-midwest.org
The Woodforest Charitable Foundation was created by Woodforest National Bank in 2005 as a direct result of its desire to support and invest in the communities in which it serves. The Foundation is creating a legacy of commitment to those in need, enriching lives and communities through dedicated leadership and faithful administration by providing funding to qualifying 501(c)(3) charities. For additional information regarding The Woodforest Charitable Foundation, call (832) 375-CARE (2273) or visit the foundation's website at www.woodforestcharitablefoundation.org.
Celebrating 30 years of service and ranked among the top earning banks in the United States, the Woodforest family of banks currently has assets of approximately $3.2 billion and services more than 770,000 customers with branches in excess of 670 throughout fifteen states: Texas, Alabama, Illinois, Indiana, Kentucky, Louisiana, Maryland, Mississippi, New York, North Carolina, Ohio, Pennsylvania, South Carolina, Virginia and West Virginia. For information about Woodforest National Bank, please call 832-375-2000 or visit the bank's website at www.woodforest.com.