WCF Donates $3,450 to Elks Major Project, Inc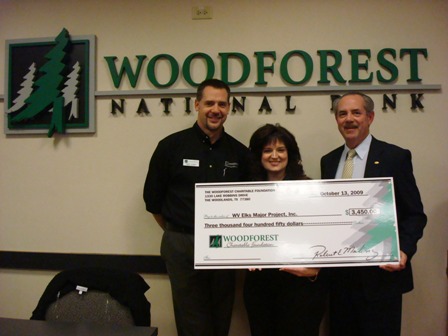 ---
West Virginia - Woodforest Charitable Foundation has recently contributed $3,450 to Elks Major Project, Inc. in West Virginia.
Established in 1988, the West Virginia Elks Major Project is a non-profit organization that was established to promote charitable, educational and benevolent activities. Their mission is to organize and sponsor camps for the mentally and/or physically challenged. Volunteer staff members provide special attention to campers as they participate in stimulating new experiences that are often not available at school or home. The organization values the belief that charity is the greatest of all virtues and that by sharing and giving we have the power to replace sorrow and despair with hope and confidence.
Objectives of the camp include assisting the camper in developing an awareness of their potential as relates to that individual's disability and to help him/her maximize their own abilities while minimizing their disability, and to further encourage independence and resourcefulness within their own limitations. "To a lot of these kids, this is their vacation every year and something they look forward to," said Taffy Hower, Camp Director of Elks Major Project, Inc.
Woodforest National Bank branches support the Foundation and their causes through many fundraising events. "The Woodforest Charitable Foundation is pleased to present this check for $3,450 to West Virginia Elks Major Project, Inc. in support of their camps which provide opportunities for individual growth for those who are mentally or physically challenged. Woodforest National Bank employees are dedicated to their fundraising efforts which provide the opportunity to make a difference in the lives of others," stated Kim Marling, Vice President of Woodforest Charitable Foundation. Woodforest National Bank branches support the Foundation and their causes through many fundraising events.
For more information, please call (304) 422- 8129 or visit the Elks Major Project, Inc. website at www.wvelks.org.
The Woodforest Charitable Foundation was created by Woodforest National Bank in 2005 as a direct result of its desire to support and invest in the communities in which it serves. The Foundation is creating a legacy of commitment to those in need, enriching lives and communities through dedicated leadership and faithful administration by providing funding to qualifying 501(c)(3) charities. For additional information regarding The Woodforest Charitable Foundation, call 832-375-CARE (2273) or visit the foundation's website at www.woodforestcharitablefoundation.org.

Celebrating 30 years of service and ranked among the top earning banks in the United States, the Woodforest family of banks currently has assets of approximately $3.2 billion and services more than 770,000 customers with branches in excess of 700 throughout fifteen states: Texas, Alabama, Illinois, Indiana, Kentucky, Louisiana, Maryland, Mississippi, New York, North Carolina, Ohio, Pennsylvania, South Carolina, Virginia and West Virginia. For information about Woodforest National Bank, please call 832-375-2000 or visit the bank's website at www.woodforest.com.