Woodforest Charitable Foundation Donates $500 to the Lois G. McArn Community Ministry, Inc.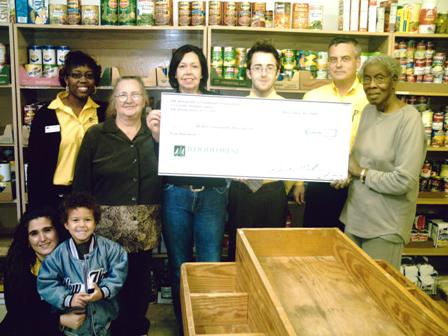 ---
CHERAW, South Carolina (December, 2009) – Woodforest Charitable Foundation donates $500 to the Lois G. McArn Community Ministry, Inc.
The lines of people needing help putting food on the table continue to grow. As job losses pile up, people who have never before required aid are showing up in need. Those already in need are hurting even more. Woodforest Charitable Foundation's recent contribution of $500 will help the McArn Community Ministry purchase and distribute food to those less fortunate.
Founded in 2002, the Lois G. McArn Community Ministry is an emergency food bank that links the food industry with needy citizens. The donated food is provided by local grocery stores, businesses, individuals, churches, schools and the Harvest Hope Food Bank. The McArn Community Ministry's main focus is providing food to the underserved and needy people of Chesterfield County. "We cannot thank you enough for the generous donation that you provided for our community," said Sharon Hendrix, Executive Director of Lois G. McArn Community Ministry, Inc. "With the help of Woodforest Charitable Foundation and Woodforest Bank, we were able to purchase food and provide service to over 300 families."
For more information about the Lois G. McArn Community Ministry, please call (843) 537-0642.
The Woodforest Charitable Foundation was created by Woodforest National Bank in 2005 as a direct result of its desire to support and invest in the communities in which it serves. The Foundation is creating a legacy of commitment to those in need, enriching lives and communities through dedicated leadership and faithful administration by providing funding to qualifying 501(c)(3) charities. For additional information regarding The Woodforest Charitable Foundation, call (832) 375-CARE (2273) or visit the foundation's website at www.woodforestcharitablefoundation.org.
Celebrating 30 years of service and ranked among the top earning banks in the United States, the Woodforest family of banks currently has assets of approximately $3.2 billion and services more than 770,000 customers with branches in excess of 700 throughout fifteen states: Texas, Alabama, Illinois, Indiana, Kentucky, Louisiana, Maryland, Mississippi, New York, North Carolina, Ohio, Pennsylvania, South Carolina, Virginia and West Virginia. For information about Woodforest National Bank, please call 832-375-2000 or visit the bank's website at www.woodforest.com.