Woodforest Charitable Foundation Donates $400 to Mississippi Food Network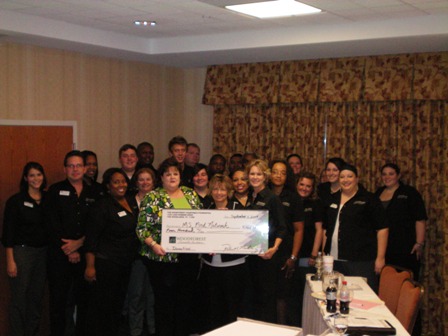 ---
Mississippi - Woodforest Charitable Foundation has recently contributed $400 to Mississippi Food Network.
This year more than ever, food banks are seeing drastic need and lower donated supplies. It makes sense that when the economy is at its lowest, the need for the food bank is at its highest. Woodforest Charitable Foundation's recent donation of $400 will assist Mississippi Food Network's efforts in eliminating hunger during the holiday season.
For over 25 years, the Mississippi Food Network has been relieving poverty-related hunger by distributing food and grocery products through a network of member churches and nonprofit organizations. Each year, the Mississippi Food Network donates over 1.2 million pounds of food through its 320 member agencies. By making six meals out of every dollar, The Network is able to feed over 100,000 people every month. "We are very excited about our new partnership with Woodforest," said Marilyn Blackledge, Director of Development for Mississippi Food Network. "This donation will help us provide more than 2,800 meals to people in our State facing hunger."
Woodforest National Bank branches support the Foundation and their causes through many fundraising events. "On behalf of the Woodforest Charitable Foundation and Woodforest National Bank, we are grateful to have the opportunity to provide assistance to those who are torn between providing food or meeting other necessary obligations for their families. We challenge others to join us in our efforts to end hunger in our communities," said Vicki Richmond of Woodforest Charitable Foundation.
For more information about Mississippi Food Network, please call (601) 353-7286, send an e-mail to info@msfoodnet.org, or visit www.msfoodnet.org.
The Woodforest Charitable Foundation was created by Woodforest National Bank in 2005 as a direct result of its desire to support and invest in the communities in which it serves. The Foundation is creating a legacy of commitment to those in need, enriching lives and communities through dedicated leadership and faithful administration by providing funding to qualifying 501(c)(3) charities. For additional information regarding The Woodforest Charitable Foundation, call (832) 375-CARE (2273) or visit the foundation's website at www.woodforestfoundation.org.
Celebrating 30 years of service and ranked among the top earning banks in the United States, the Woodforest family of banks currently has assets of approximately $3.2 billion and services more than 770,000 customers with branches in excess of 700 throughout fifteen states: Texas, Alabama, Illinois, Indiana, Kentucky, Louisiana, Maryland, Mississippi, New York, North Carolina, Ohio, Pennsylvania, South Carolina, Virginia and West Virginia. For information about Woodforest National Bank, please call 832-375-2000 or visit the bank's website at www.woodforest.com.
.