Angel Ranch Receives $900 Donation from Woodforest Charitable Foundation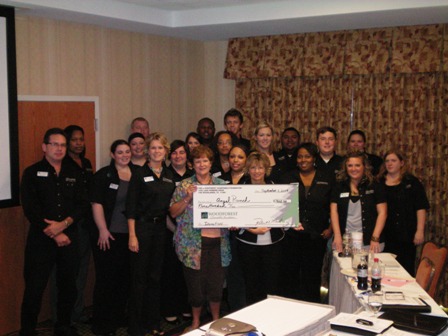 ---
Oxford, Mississippi - Woodforest Charitable Foundation has recently donated $900 to the Angel Ranch, Inc. located in Oxford, Mississippi.
Every child has a dream of what he wants to be when he grows up. Unfortunately, not every child gets a fair chance at acquiring that dream. Woodforest Charitable Foundation's recent donation of $900 will assist Angel Ranch, Inc.'s efforts in providing emergency shelter services to abused children.
Angel Ranch, Inc. opened their doors for children on November 1, 2006. Oxford was in need of a residence to house children who were considered to be in danger and needed to be removed from their home. Since that time they have served 84 children in 26 Mississippi counties. Their facility will house up to 8 children at a time, while they work with social services to find foster homes for additional children. Angel Ranch, Inc. is a non-profit organization that depends on volunteers to provide clothing, food, medical treatment, tutoring and counseling.
"These children are provided a loving family environment and opportunities that every child deserves," said Kim Marling, Vice President of Woodforest Charitable Foundation. "The Angel Ranch, Inc. provides emergency shelter, high quality care and hope for the future to abandoned, abused and neglected children. We are delighted to support an organization that offers hope and opportunity to so many children."
For more information about Angel Ranch, Inc., please call (662) 234-3320 or visit www.angelranch.org.
The Woodforest Charitable Foundation was created by Woodforest National Bank in 2005 as a direct result of its desire to support and invest in the communities in which it serves. The Foundation is creating a legacy of commitment to those in need, enriching lives and communities through dedicated leadership and faithful administration by providing funding to qualifying 501(c)(3) charities. For additional information regarding The Woodforest Charitable Foundation, call (832) 375-CARE (2273) or visit the foundation's website at www.woodforestcharitablefoundation.org.
Celebrating 30 years of service and ranked among the top earning banks in the United States, the Woodforest family of banks currently has assets of approximately $3.2 billion and services more than 770,000 customers with branches in excess of 700 throughout fifteen states: Texas, Alabama, Illinois, Indiana, Kentucky, Louisiana, Maryland, Mississippi, New York, North Carolina, Ohio, Pennsylvania, South Carolina, Virginia and West Virginia. For information about Woodforest National Bank, please call 832-375-2000 or visit the bank's website at www.woodforest.com.