Woodforest Charitable Foundation donates $1,500 to Montgomery Area Food Bank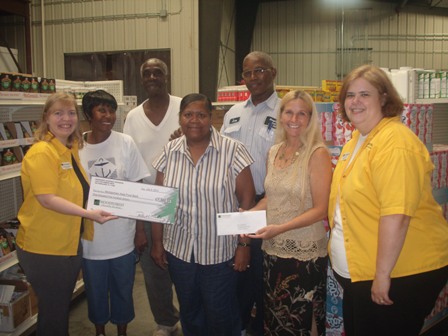 ---
MONTGOMERY, AL – Montgomery Area Food Bank receives a $1,500 contribution from Woodforest Charitable Foundation.
Montgomery Area Food Bank, established in 1986, fights hunger and poverty in 35 counties throughout South Central Alabama. The Food Bank serves the needy through 700 member agencies by soliciting, procuring and distributing excess food, grocery and household products; by developing and monitoring agency networks; and by cultivating community awareness and participation.
Woodforest Charitable Foundation's donation of $1,500 will support the Food Bank's Senior Supplement Program. The Senior Supplement Program is an enrollment program for persons aged 60 and above, who are not able to obtain sufficient food for a healthy diet with their own resources. The clients receive boxes of non-perishable food during the third week of each month. "We continue in gratefulness to the Woodforest Charitable Foundation for your support, but our thanks pale in comparison to that of those you are helping to feed," said E. Parke Hinman, Executive Director of Montgomery Area Food Bank. "The Foundation's generosity will make a difference in the lives of so many."
For more information, please call (334) 263-3784 or visit the Montgomery Area Food Bank's website at www.montgomeryareafoodbank.org.
The Woodforest Charitable Foundation was created by Woodforest National Bank in 2005 as a direct result of its desire to support and invest in the communities in which it serves. The Foundation is creating a legacy of commitment to those in need, enriching lives and communities through dedicated leadership and faithful administration by providing funding to qualifying 501(c)(3) charities. For additional information regarding The Woodforest Charitable Foundation, call (832) 375-CARE (2273) or visit the Foundation's website at www.woodforestcharitablefoundation.org.
Celebrating 30 years of service and ranked among the top earning banks in the United States, the Woodforest family of banks currently has assets of approximately $3.2 billion and services more than 850,000 customers with branches in excess of 750 throughout seventeen states: Texas, Alabama, Florida, Georgia, Illinois, Indiana, Kentucky, Louisiana, Maryland, Mississippi, New York, North Carolina, Ohio, Pennsylvania, South Carolina, Virginia and West Virginia. For information about Woodforest National Bank, please call 832-375-2000 or visit the bank's website at www.woodforest.com.