Woodforest Charitable Foundation donates $500 to The Foundry Rescue Mission & Recovery Center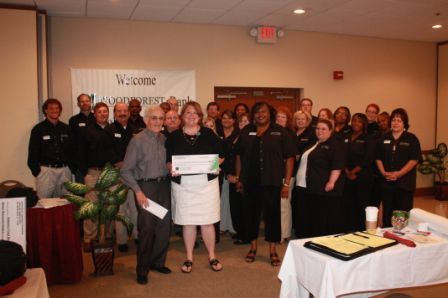 ---
BESSEMER, AL – The Foundry Rescue Mission & Recovery Center recently received a $500 donation from Woodforest Charitable Foundation.
Domestically, hunger and poverty have surged in recent years because of the recession. The U.S. Census Bureau reports that one in five children live in poverty. Among the states with the highest poverty rates, Alabama is ranked seventh. Woodforest Charitable Foundation's contribution to The Foundry will support their efforts of eliminating hunger in Alabama through the Community Outreach Center.
Established in 1971, The Foundry Rescue Mission & Recovery Center's mission is to reach out to individuals and families with assistance and encouragement to stabilize their lives in times of crisis. While many people in the community do not require shelter and recovery, they do sometimes need a place to turn for help when a reliable source of food is unavailable. The Foundry's Community Outreach Center provides three meals a day for residents, the homeless and the working-poor. The Outreach Center also distributes grocery boxes to qualifying low-income individuals and families. Each box contains enough food for several meals.
"Woodforest Charitable Foundation's gift couldn't have come at a better time. Over the past few months, we've seen a dramatic increase in the number of men, women and young children joining us for daily meals," said Rev. Bill Heintz, Executive Director of The Foundry Rescue Mission & Recovery Center. "While we're saddened so many people face the uncertainty of how they'll provide food for themselves and their families, we are pleased to have the opportunity to share a meal – and the message of God's love – with more people than ever before. The Woodforest Charitable Foundation is among our most generous supporters and their contribution is vital to our work."
For more information about The Foundry Rescue Mission & Recovery Center, please visit www.thefoundryonline.org or call (205) 424-HOPE (4673).
The Woodforest Charitable Foundation was created by Woodforest National Bank in 2005 as a direct result of its desire to support and invest in the communities in which it serves. The Foundation is creating a legacy of commitment to those in need, enriching lives and communities through dedicated leadership and faithful administration by providing funding to qualifying 501(c)(3) charities. For additional information regarding The Woodforest Charitable Foundation, call (832) 375-CARE (2273) or visit the Foundation's website at www.woodforestcharitablefoundation.org.
Celebrating 30 years of service and ranked among the top earning banks in the United States, the Woodforest family of banks currently has assets of approximately $3.2 billion and services more than 850,000 customers with branches in excess of 750 throughout seventeen states: Texas, Alabama, Florida, Georgia, Illinois, Indiana, Kentucky, Louisiana, Maryland, Mississippi, New York, North Carolina, Ohio, Pennsylvania, South Carolina, Virginia and West Virginia. For information about Woodforest National Bank, please call 832-375-2000 or visit the bank's website at www.woodforest.com.