Woodforest Charitable Foundation donates $3,200 to King's Home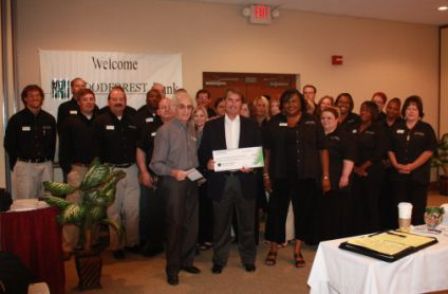 ---
CHELSEA, AL - King's Home is a place where compassion resides, where love dwells, and where hope lives. Woodforest Charitable Foundation's recent contribution to King's Home will support their mission of providing a safe, secure and nurturing environment to victims of violence.
King's Home, formerly known as The King's Ranch and Hannah Homes, has been home to hundreds of youth, women, and children seeking refuge, hope, and help from difficult circumstances. The program currently operates 18 therapeutic group homes and independent-living facilities in three counties. At the Hannah Homes Campus of King's Home, women and children are offered loving support at a residential, home-like setting. Hannah Homes provides food, housing, medical expenses, educational support, counseling and childcare. At the King's Ranch Campus of King's Home, youth are provided loving homes, spiritual development, educational assistance and counseling.
Along with the opportunity for spiritual development, King's Home teaches necessary life skills and provides tangible services to help residents heal from their devastating pasts, break the cycle of abuse, build healthy relationships and become independent, productive members of the community. "Your gifts are making an enormous impact that will be felt for generations to come as lives are changed and hearts are transformed," said Lew Burdette, President of King's Home. "Woodforest Charitable Foundation is a light in the darkness shining forth to bring hope to those who desperately need it. We greatly appreciate your support and generosity."
For more information regarding King's Home, please visit www.kingshome.com or call (205) 678-8331.
The Woodforest Charitable Foundation was created by Woodforest National Bank in 2005 as a direct result of its desire to support and invest in the communities in which it serves. The Foundation is creating a legacy of commitment to those in need, enriching lives and communities through dedicated leadership and faithful administration by providing funding to qualifying 501(c)(3) charities. For additional information regarding The Woodforest Charitable Foundation, call (832) 375-CARE (2273) or visit the Foundation's website at www.woodforestcharitablefoundation.org.
Celebrating 30 years of service and ranked among the top earning banks in the United States, the Woodforest family of banks currently has assets of approximately $3.2 billion and services more than 850,000 customers with branches in excess of 750 throughout seventeen states: Texas, Alabama, Florida, Georgia, Illinois, Indiana, Kentucky, Louisiana, Maryland, Mississippi, New York, North Carolina, Ohio, Pennsylvania, South Carolina, Virginia and West Virginia. For information about Woodforest National Bank, please call 832-375-2000 or visit the bank's website at www.woodforest.com.