Woodforest Charitable Foundation donates $2,100 to United Way Community Food Bank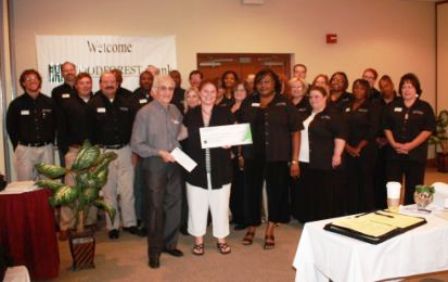 ---
BIRMINGHAM, AL - Woodforest Charitable Foundation presents United Way Community Food Bank with a $2,100 check in support of their Weekenders Backpack Program.
The Weekenders Program provides backpacks of nutritious food for children who are at risk of being food deprived over the weekend. Foods included in the Weekender Backpacks consist of milk, juice, cereals, microwavable meals, and more. The goal of this program is to ensure that children remain fed and full out of school. The program is currently operated through a school in the Hoover School System, as well as a school in the Tarrant City School system.
The United Way Community Food Bank, established in 1982, is the Feeding America-affiliated food bank for Central Alabama, currently serving thirteen counties. The Food Bank solicits food in vast amounts and divides these goods among more than 180 food programs. These programs include shelters for the homeless, soup kitchens, residential facilities for the elderly and handicapped, and shelters for abused women and children. In 2009, United Way Community Food Bank distributed over seven million pounds of food to needy citizens in central Alabama.
"The mission of the Food Bank is to serve people in need by securing and storing surplus food and distributing it through local partnering services and programs," said Mary Kelley, Assistant Director of United Way Community Food Bank. "For many of the children supported by the Weekenders Backpack Program, the meals they receive at school are their only reliable source of food. We are grateful for Woodforest Charitable Foundation's generous donation that will be used to expand our Backpack Program."
For more information about United Way Community Food Bank, please call 205-942-8911 or visit www.feedingal.org.
The Woodforest Charitable Foundation was created by Woodforest National Bank in 2005 as a direct result of its desire to support and invest in the communities in which it serves. The Foundation is creating a legacy of commitment to those in need, enriching lives and communities through dedicated leadership and faithful administration by providing funding to qualifying 501(c)(3) charities. For additional information regarding The Woodforest Charitable Foundation, call (832) 375-CARE (2273) or visit the Foundation's website at www.woodforestcharitablefoundation.org.
Celebrating 30 years of service and ranked among the top earning banks in the United States, the Woodforest family of banks currently has assets of approximately $3.2 billion and services more than 850,000 customers with branches in excess of 750 throughout seventeen states: Texas, Alabama, Florida, Georgia, Illinois, Indiana, Kentucky, Louisiana, Maryland, Mississippi, New York, North Carolina, Ohio, Pennsylvania, South Carolina, Virginia and West Virginia. For information about Woodforest National Bank, please call 832-375-2000 or visit the bank's website at www.woodforest.com.