Montgomery County Emergency Assistance receives $10,000 donation from WCF.
19-April, 2012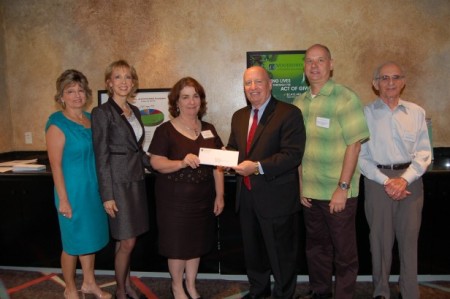 ---
Conroe, TX - Montgomery County Emergency Assistance recently received a $10,000 contribution from Woodforest Charitable Foundation.
Montgomery County Emergency Assistance (MCEA) is a non-profit organization established in 1981 that provides real solutions that help rebuild families during times of crisis. These are residents throughout the county whose health and well-being are threatened by an unexpected crisis or need.
MCEA serves families and individuals residing in Montgomery County with established offices throughout the county in order to better serve clients. The majority of appointments with case managers are scheduled in the Conroe office, but clients are able to meet with case managers on a limited basis in the New Caney, The Woodlands, Magnolia, and Montgomery satellite offices. Currently, Montgomery County Emergency Assistance schedules 30-35 appointments per week and see 50-60 individuals on a walk in basis. MCEA collaborates with area churches, government entities, and other nonprofits to provide programs, services, and resource referrals to the following populations
MCEA's mission is to aid residents of Montgomery County who require temporary financial support to regain self-sufficiency. They focus on strong client relationships and assist families in establishing attainable goals, accessing community resources and gaining valuable skills pertinent to helping their clients become successful. Their case management department provides ongoing community resources to establish a stronger foundation to lift families up towards self-sufficiency. Montgomery County Emergency Assistance believes in establishing a "care team" approach to engage on-going support and assistance from family, friends and communities of faith and other services. Through community partnerships, case managers are able to develop a roadmap of services which strengthen and leverage the support provided to their clients.
"On behalf of everyone at Montgomery County Emergency Assistance, I am writing to you today to express our sincere appreciation for the Woodforest Charitable Foundation's recent gift in support of our emergency assistance programs. Thank you for touching the lives of our neighbors and truly making a difference," said Tim Barnes, Executive Director of Montgomery County Emergency Assistance.
For more information on Woodforest Charitable Foundation's contributions to this organization, please contact this agency directly at (936) 539-9211 or visit www.mcea-tx.org.
The Woodforest Charitable Foundation was created by Woodforest National Bank in 2005 as a direct result of its desire to support and invest in the communities in which it serves. The Foundation is creating a legacy of commitment to those in need, enriching lives and communities through dedicated leadership and faithful administration by providing funding to qualifying 501(c) (3) charities. For additional information regarding The Woodforest Charitable Foundation, call (832) 375-CARE (2273) or visit the foundation's website at www.woodforestcharitablefoundation.org.
Celebrating 32 years of service and ranked among the top earning banks in the United States, the Woodforest family of banks currently has assets of approximately $3.7 billion and services more than 1 million customers with branches in excess of 780 throughout 17 states: Texas, Alabama, Florida, Georgia, Illinois, Indiana, Kentucky, Louisiana, Maryland, Mississippi, New York, North Carolina, Ohio, Pennsylvania, South Carolina, Virginia and West Virginia. For information about Woodforest National Bank, please call k832-375-2000 or visit the bank's website at www.woodforest.com.