Montgomery County Emergency Assistance Receives $10,000 Contribution from Woodforest Charitable Foundation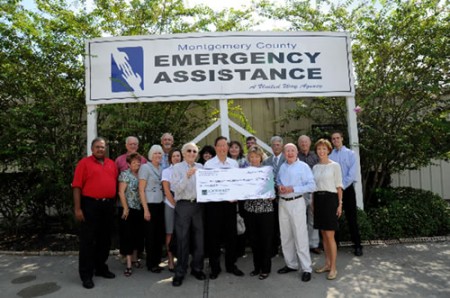 ---
Conroe, TX – Montgomery County Emergency Assistance (MCEA) recently received a $10,000 contribution from The Woodforest Charitable Foundation. MCEA, a private, non-profit organization that helps residents with emergency financial assistance, received this gift in support of it's homeless prevention programs. "In this current economic environment an increasing number of families are faced with financial hardships. MCEA's benevolent support provides basic necessities to individuals and families while helping them to maintain dignity during these difficult times. We are grateful for the opportunity to offer assistance to such a worthy cause," noted Kim Marling, Vice President Woodforest Charitable Foundation.
"We are ecstatic to receive this funding from the Woodforest Charitable Foundation. This year we have seen a significant increase in the need for our services across the county," said David Hwa, MCEA Executive Director. "Demand is overwhelming due to the economic hardships people are faced with. Every day we see too many families falling behind their bills, making the difficult choices between heating or cooling their homes, or paying for their rent, mortgage, prescriptions, food or clothing."
Typical assistance provided by MCEA comes in the form of temporary financial assistance towards a utility bill, rent or mortgage payment, or prescription expenses. MCEA also provides food and clothing to those in need. "Our temporary financial assistance forestalls eviction or utility disconnect. By providing a small amount of financial assistance, we buy the clients a little bit of time to get back on their feet after a recent crisis, and most importantly keep them stabilized in their homes," said Hwa. "This year we anticipate we will aid more than 12,000 individuals, twice the amount of assistance to those in need than any year since our existence in 1981. This could not be possible without wonderful community donors such as the Woodforest Charitable Foundation."
Montgomery County Emergency Assistance has five offices located in Conroe, The Woodlands, New Caney, Magnolia and a new office in Willis. MCEA also operates a food pantry and resale thrift shop. For more information about MCEA or to make an appointment to see a Case Manager, please call the agency's Conroe office at 936-539-9211.
The Woodforest Charitable Foundation was created by Woodforest National Bank in 2005 as a direct result of its desire to support and invest in the communities in which it serves. The Foundation is creating a legacy of commitment to those in need, enriching lives and communities through dedicated leadership and faithful administration by providing funding to qualifying 501(c)(3) charities. For additional information regarding The Woodforest Charitable Foundation, call 832-375-CARE (2273) or visit the foundation's website at www.woodforestcharitablefoundation.org.