Woodlands Car Club revs up donations for Woodforest Charitable Foundation, benefiting three local nonprofit agencies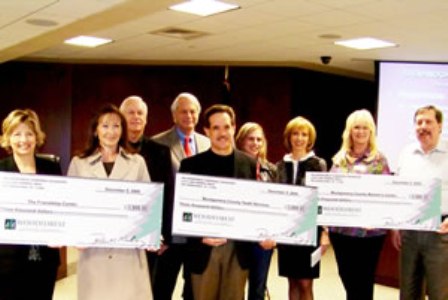 ---
THE WOODLANDS, Texas (December, 2009) - Woodforest Charitable Foundation recently made a check presentation to three local nonprofit agencies that serve Montgomery County, namely: The Montgomery County Women's Center, The Friendship Center and Montgomery County Youth Services.
The check presentation took place at the City of Shenandoah's City Council meeting and the donation was made possible through the valiant efforts of The Woodlands Car Club generating more than $9,000 from local car shows in the area, specifically their most recent "Evening Fall Car Show" event held in Shenandoah.
"I am very thankful for all the support from our sponsors, local businesses, volunteers, and members of The Woodlands Car Club," said Dana Pritchard, president of the car club. "The Woodlands Car Club was founded to create awareness and give back monetarily to worthwhile non profits that serve our community. The Shenandoah event put us over the top so that we could give generously to Woodforest Charitable Foundation and ultimately, three deserving agencies."
The Woodlands Car Club was founded in March 2001 by local group of car enthusiasts to create friendships, fellowship, foster relationships with local business and community, create awareness for and give back to local nonprofit organizations in Montgomery County. The Club is comprised of a small band of volunteers that are very dedicated and enthusiastic about the overall mission to support nonprofit agencies that serve the community in a variety of way.
"The Woodforest Charitable Foundation is blessed with the support of friends, customers and organizations like The Woodlands Car Club who share a common interest in offering help and hope to those who are faced with a crisis," said Kim Marling, vice-president of Woodforest Charitable Foundation. "With their support we have made an additional 2009 donation to these three very worthy organizations."
The Woodforest Charitable Foundation was established in The Woodlands, Texas in 2005. It was created by its founder, Woodforest National Bank, to establish an endowment for the purpose of enriching communities through partnerships with charitable organizations.
"Currently we are presented with the greatest need in our community and it is up to local businesses and organizations to extend the greatest give they can," Pritchard said.
For upcoming events or more information on The Woodlands Car Club, e-mail Dana Pritchard at info@woodlandsperformance.com.
The Woodforest Charitable Foundation was created by Woodforest National Bank in 2005 as a direct result of its desire to support and invest in the communities in which it serves. The Foundation is creating a legacy of commitment to those in need, enriching lives and communities through dedicated leadership and faithful administration by providing funding to qualifying 501(c)(3) charities. For additional information regarding The Woodforest Charitable Foundation, call (832) 375-CARE (2273) or visit the foundation's website at www.woodforestcharitablefoundation.org.
Celebrating 30 years of service and ranked among the top earning banks in the United States, the Woodforest family of banks currently has assets of approximately $3.2 billion and services more than 770,000 customers with branches in excess of 700 throughout fifteen states: Texas, Alabama, Illinois, Indiana, Kentucky, Louisiana, Maryland, Mississippi, New York, North Carolina, Ohio, Pennsylvania, South Carolina, Virginia and West Virginia. For information about Woodforest National Bank, please call 832-375-2000 or visit the bank's website at www.woodforest.com.