Woodforest Charitable Foundation Donates $10,500 to the Ohio Association of Second Harvest Foodbanks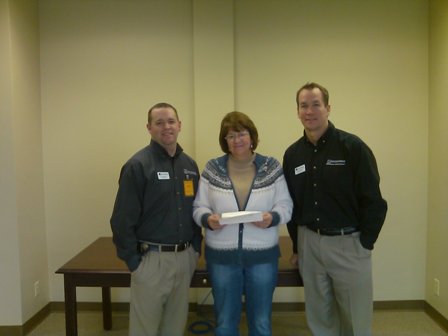 ---
COLUMBUS, Ohio (December, 2009) - Woodforest Charitable Foundation donates $10,500 to the Ohio Association of Second Harvest Foodbanks, Kids Café program.
The Ohio Association of Second Harvest Foodbanks (OASHF) is an organization that represents 12 foodbanks across the state. With more than 3,300 member agencies, the Ohio Association of Second Harvest Foodbanks is able to reach all 88 Ohio counties. During State Fiscal Year 2009, OASHF distributed more than 113.7 million pounds of food and other grocery items tofood pantries, soup kitchens, homeless shelters and other hunger relief organizations.
The Columbus Dispatch reported on November 29, 2009 that one in four Ohio children under the age of five is hungry or at significant risk of hunger. The Ohio Association of Second Harvest Foodbanks is a proud supporter of the Kids Café program. Kids Cafe programs provide free meals and snacks to low-income children through a variety of community locations. In addition to providing meals to kids, all Kids Cafe programs also offer a safe place, where under the supervision of trustworthy staff, a child can get involved in educational, recreational and social activities. "Double-digit unemployment rates throughout Ohio have caused the domino effect of increased poverty, which means families cannot meet their most basic needs. For the first time in their lives, many Ohioans must depend on the kindness and generosity of others," said Lisa Hamler-Fugitt, Executive Director for Ohio Association of Second Harvest Foodbanks. "On behalf of the millions we serve through Ohio's foodbanks and The Ohio Benefit Bank, please accept my sincere thank you for your generous gift of $10,500."
For more information about the Ohio Association of Second Harvest Foodbanks, please call (614) 221-4336 or visit www.oashf.org.
The Woodforest Charitable Foundation was created by Woodforest National Bank in 2005 as a direct result of its desire to support and invest in the communities in which it serves. The Foundation is creating a legacy of commitment to those in need, enriching lives and communities through dedicated leadership and faithful administration by providing funding to qualifying 501(c)(3) charities. For additional information regarding The Woodforest Charitable Foundation, call (832) 375-CARE (2273) or visit the foundation's website at www.woodforestcharitablefoundation.org.
Celebrating 30 years of service and ranked among the top earning banks in the United States, the Woodforest family of banks currently has assets of approximately $3.2 billion and services more than 770,000 customers with branches in excess of 700 throughout fifteen states: Texas, Alabama, Illinois, Indiana, Kentucky, Louisiana, Maryland, Mississippi, New York, North Carolina, Ohio, Pennsylvania, South Carolina, Virginia and West Virginia. For information about Woodforest National Bank, please call 832-375-2000 or visit the bank's website at www.woodforest.com.