Woodforest Charitable Foundation donates $10,000 to San Antonio Food Bank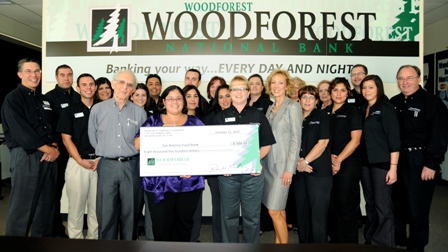 ---
SAN ANTONIO, TX – Each year in the United States over 25 million people visit a food bank because of food insecurity. In San Antonio, one in four children experience hunger. Woodforest Charitable Foundation recently donated $10,000 in support of San Antonio Food Bank's privately funded feeding programs for children.
The San Antonio Food Bank confronts childhood hunger through its Kids Café and BackPack Programs. Kids Cafés are safe, nurturing places where children can go after school to receive a hot supper as well as help with homework from volunteers or staff members. In addition to Kids Cafés, the Food Bank also partners with dozens of schools to provide food for children at-risk of going hungry over a weekend or holiday. Backpacks are stocked with nutritious, easy-to-prepare items and are distributed discreetly to children on Fridays or the last day before a school break.
"Woodforest Charitable Foundation's donation will be utilized to help feed thousands of poor, needy and hungry children participating in the Food Bank's Kids Café and BackPack Programs," stated Eric Cooper, Executive Director of San Antonio Food Bank. "Without Woodforest's kindhearted support and generosity many children would simply go hungry. Thank you for joining us in the fight against childhood hunger."
For more information about San Antonio Food Bank, please call (210) 337-3663 or visit www.safoodbank.org.
The Woodforest Charitable Foundation was created by Woodforest National Bank in 2005 as a direct result of its desire to support and invest in the communities in which it serves. The Foundation is creating a legacy of commitment to those in need, enriching lives and communities through dedicated leadership and faithful administration by providing funding to qualifying 501(c)(3) charities. For additional information regarding The Woodforest Charitable Foundation, call (832) 375-CARE (2273) or visit the Foundation's website at www.woodforestcharitablefoundation.org.
Celebrating 30 years of service and ranked among the top earning banks in the United States, the Woodforest family of banks currently has assets of approximately $3.2 billion and services more than 850,000 customers with branches in excess of 750 throughout seventeen states: Texas, Alabama, Florida, Georgia, Illinois, Indiana, Kentucky, Louisiana, Maryland, Mississippi, New York, North Carolina, Ohio, Pennsylvania, South Carolina, Virginia and West Virginia. For information about Woodforest National Bank, please call 832-375-2000 or visit the bank's website at www.woodforest.com.