Woodforest Charitable Foundation donates $2,000 to Second Harvest Food Bank of Northwest Pennsylvania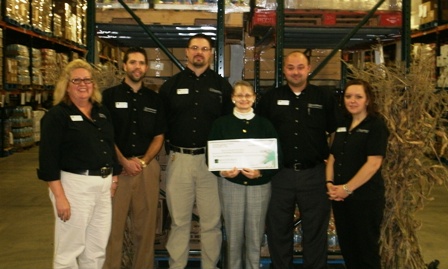 ---
ERIE, PA – Woodforest Charitable Foundation recently made a $2,000 donation to Second Harvest Food Bank of Northwest Pennsylvania (Second Harvest). The funds will support the Food Bank's Kids Café and BackPack Programs.
The Kids Café Program provides free nutritious meals and snacks to needy children at safe, accessible sites. Second Harvest's Kids Cafés are free after-school programs that offer homework assistance, nutrition education and recreational activities along with a meal. This program helps provide the proper nutrition necessary for overall growth, physical and cognitive development and satisfactory performance in school.
The BackPack Program provides needy children with nutritious, child-friendly food when other resources, such as school lunches and after-school meals or snacks, are not available. Back packs are discreetly distributed to participating children at community centers or schools on Fridays and before holidays. Second Harvest selects and obtains the food for their sites and volunteers assemble individual bags for distribution. The food is nonperishable, vitamin fortified, and easy to prepare and consume.
"Woodforest's donation comes at an especially crucial time, as the need for programs for children is greater than ever in northwest Pennsylvania," said Karen Seggi, Executive Director of Second Harvest Food Bank of Northwest Pennsylvania. "The commitment to the community from the Woodforest Charitable Foundation and Woodforest National Bank shows remarkable caring and concern. With Woodforest's contribution and volunteers, Second Harvest will be able to take food to many more children in need."
Second Harvest, which has 60,000 square feet of space, solicits, receives, inventories, stores and distributes food and grocery products to 403 partner organizations in 11 counties. For more information about Second Harvest Food Bank of Northwest Pennsylvania, please call (814) 459-3663 or visit www.eriefoodbank.org.
The Woodforest Charitable Foundation was created by Woodforest National Bank in 2005 as a direct result of its desire to support and invest in the communities in which it serves. The Foundation is creating a legacy of commitment to those in need, enriching lives and communities through dedicated leadership and faithful administration by providing funding to qualifying 501(c)(3) charities. For additional information regarding The Woodforest Charitable Foundation, call (832) 375-CARE (2273) or visit the Foundation's website at www.woodforestcharitablefoundation.org.
Celebrating 30 years of service and ranked among the top earning banks in the United States, the Woodforest family of banks currently has assets of approximately $3.2 billion and services more than 850,000 customers with branches in excess of 750 throughout seventeen states: Texas, Alabama, Florida, Georgia, Illinois, Indiana, Kentucky, Louisiana, Maryland, Mississippi, New York, North Carolina, Ohio, Pennsylvania, South Carolina, Virginia and West Virginia. For information about Woodforest National Bank, please call 832-375-2000 or visit the bank's website at www.woodforest.com.